Are you ready to spice up your kitchen in 2023? If so, get ready to be inspired because this year's kitchen trends are all about having fun and adding some pizzazz to your culinary space.
In 2023, we're saying goodbye to bland kitchens and hello to bold and bright hues, kitchen wallpaper, decorative elements, and more! 2023 kitchen trends aren't all about aesthetics. Open shelving and floating cabinets are making a comeback, providing more storage and display options. And let's not forget about the resurgence of natural materials such as wood and stone, which add warmth and texture.
So, whether you're looking for a complete kitchen overhaul or just want to add a few trendy touches, keep reading for 22 kitchen trends of 2023!
Contemporary Designs With Clean Sleek Lines!
In 2023, we can expect to see some innovative new designs that push the boundaries of what's possible in the modern kitchen. One of the top trends for contemporary kitchen design in 2023 is the use of natural materials.
From warm, textured woods to sleek, polished stones – natural materials are being incorporated into kitchen designs to add texture and depth while remaining minimalistic in their appearance. Clean, sleek lines are also the name of the game in 2023 kitchens.
The clean and simple look is here to stay – so don't be afraid to go minimal with your own kitchen design! If you have a lot of space in your kitchen and want to make it feel bigger, consider using walls that are mostly white or light-colored (like off-white).
Clean lines are also great for creating an elegant feel without being too fancy–you'll still want some personality in your space. A simple shape like an L-shaped island can do wonders when paired with high-gloss white cabinets.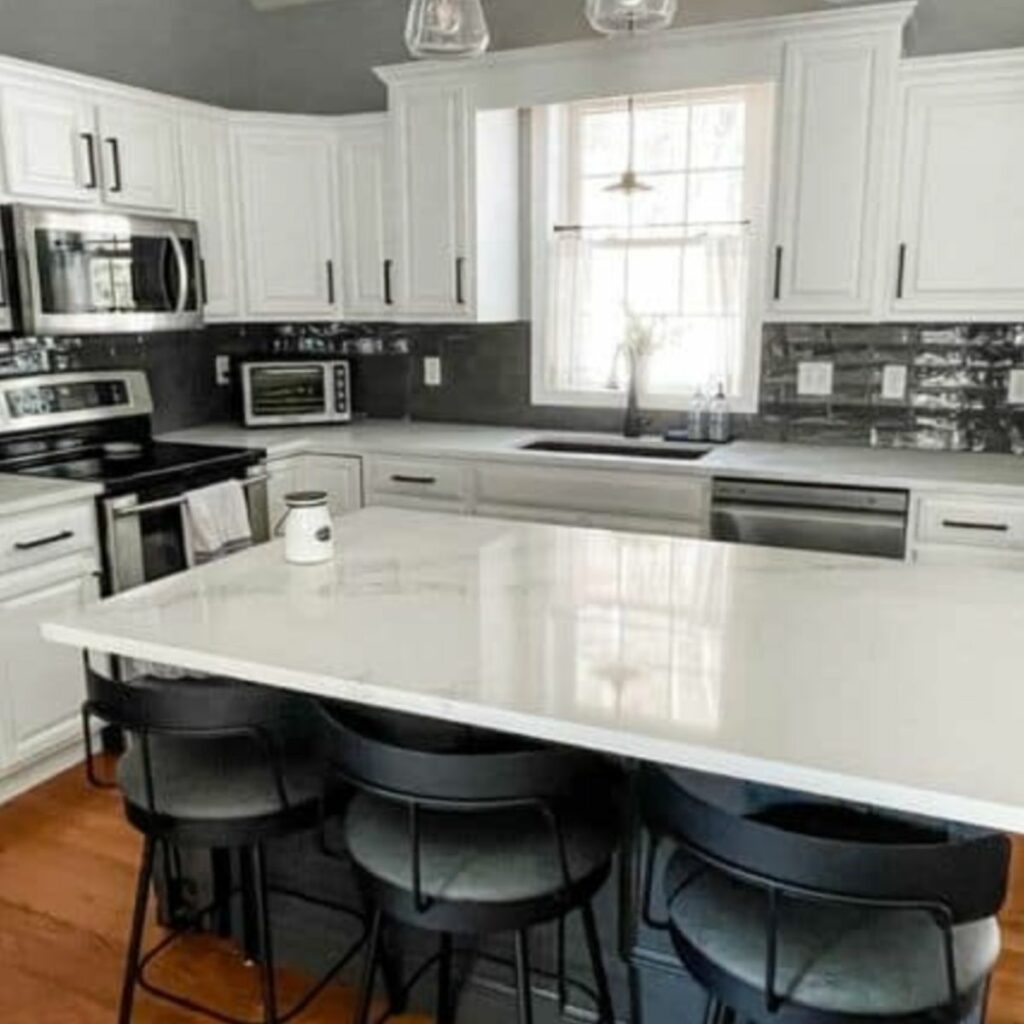 Don't Forget Decorative Elements
A fun way to add some personality and flair to your kitchen, is to incorporate decorative elements!
Artwork is becoming a popular trend in 2023 kitchen spaces, as it's a great way to inject some eye-catching visuals into the space. Try adding a large-scale canvas or collection of small prints staggered.
We are also seeing plants trending in 2023 kitchens as a decorative flair to a simplistic design. From hanging plants to herb gardens, plants bring an earthy appearance to your kitchen.
Here are a few other decorative elements that are going strong in 2023 kitchen trends!
1. Bold and colorful backsplashes: Backsplashes that are bold and colorful will continue to be popular in 2023. Bright tile patterns and vibrant hues make kitchen backsplashes a great way to add personality and color to your kitchen.
2. Statement lighting: Statement lighting is a popular trend in 2023 kitchens. From oversized pendants to dramatic chandeliers, statement lighting can add a touch of elegance and sophistication to any kitchen.
3. Mixed materials: Combining different textures like wood, metal, and stone creates a unique look that adds depth and character to the kitchen (more about this in the next section!)
4. Open shelving: We predict that in 2023, open shelving will continue to be a popular design element. This trend adds visual interest and makes it easy to access your kitchen essentials. You can also use open shelving to display decorative items like plants, vases or artwork.5. Custom cabinetry: Custom cabinetry is a popular option for kitchen design in 2023 because it allows homeowners to make their space unique. Custom cabinetry can be used to create built-in wine racks, hidden storage, and custom range hoods.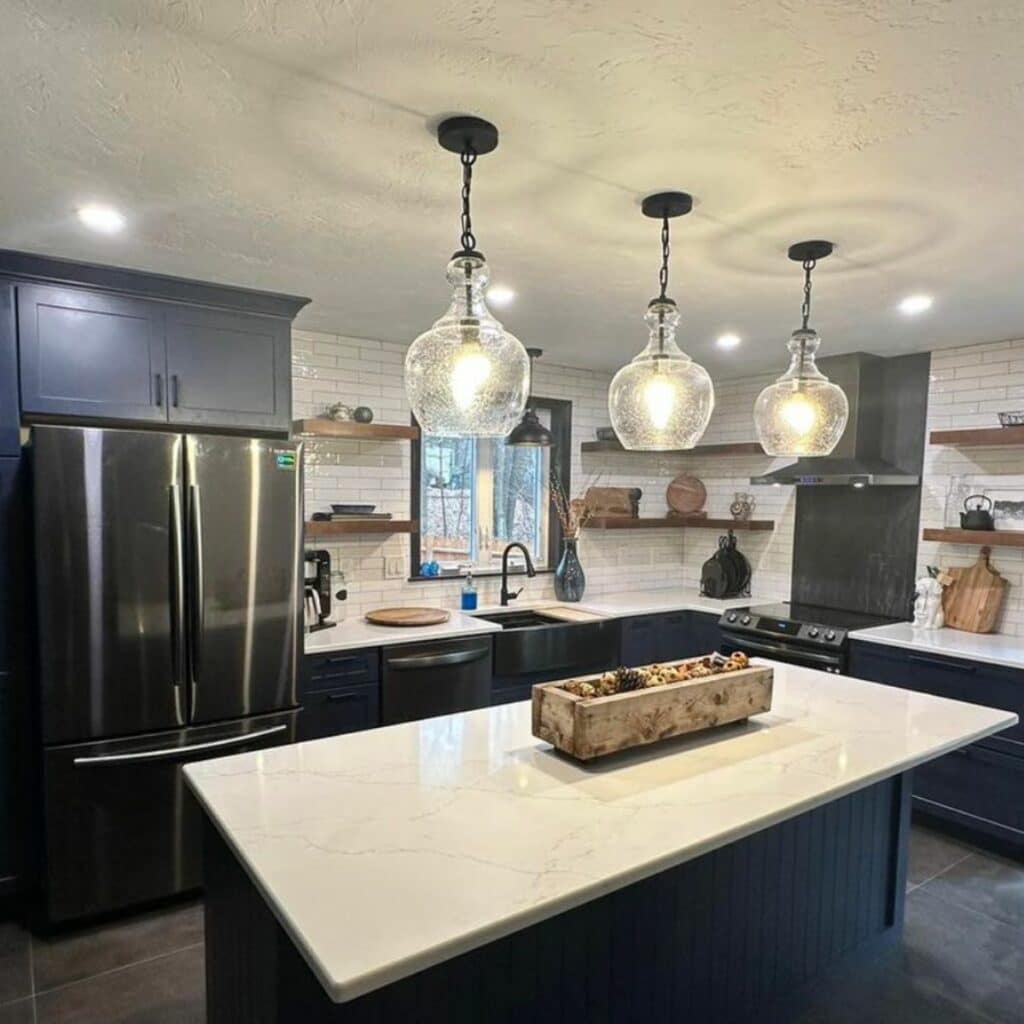 Go with Natural Textures and Finishes
One of the hottest trends in kitchen design over the past few years has been the use of natural textures and finishes, which bring a sense of beauty to the room.
Here are some natural textures and finishes we see trending in 2023.
1. Wood: Wood finishes are as popular in 2023 as they were in 2013. Natural wood cabinets, butcher block countertops and wood floors all add warmth and beauty to a kitchen.
2. Stone: The popularity of granite or marble countertops has been around for a long time, but in 2023 there is a growing trend towards using textured stone backsplashes or accent walls to add visual interest and depth to the kitchen.
3. Metal: Copper and brass are making a comeback in kitchen design, adding a touch of industrial chic to the space. From range hoods to cabinet hardware, there are plenty of ways to incorporate metal into your kitchen design.
4. Concrete: While it may not seem like an obvious choice for a kitchen finish, concrete is a surprisingly versatile material, especially when it comes to kitchen design. Concrete countertops and floors can give your kitchen a sleek, modern look with a natural texture.
5. Natural fibers: Natural fibers like jute or sisal are also being used in kitchen design. They can be incorporated as rugs, window treatments, or even wall coverings to add a soft and natural touch to the space.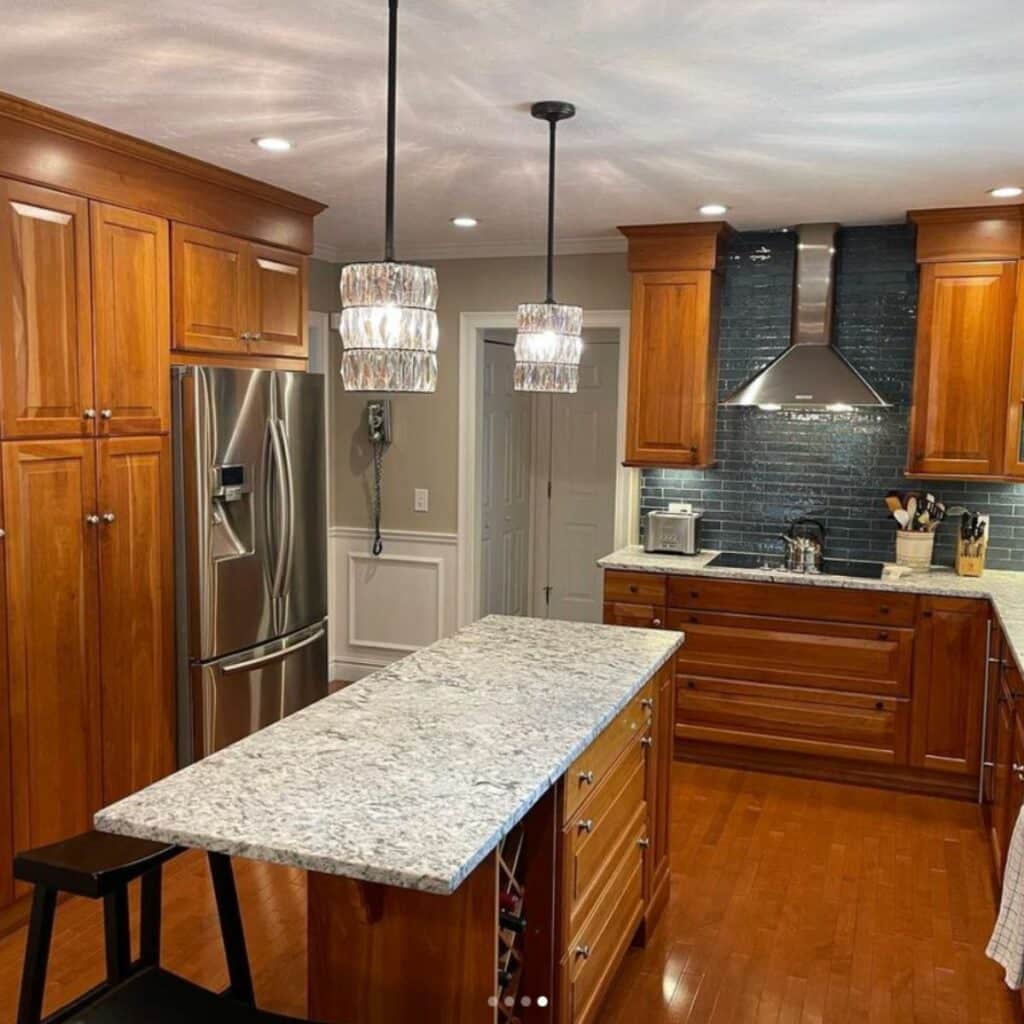 Spice Up Your Space With Kitchen WallPaper
Wallpaper is backkkk. Yep! Wallpaper is making a huge comeback and we believe it will be a huge kitchen trend in 2023. Kitchen wallpaper brings a modern twist to contemporary kitchen and is a fantastic way to add color, and texture to the space.
Here are some kitchen wallpaper trends of 2023:
1. Bold Patterns: Everybody loves a bold pattern! Large, graphic prints like oversized florals, abstract geometrics, and bold stripes can create a statement-making focal point in the kitchen.
2. Textured Wallpaper: Textured wallpaper is a thing and it's trending in 2023 kitchen design. Grasscloth, linen, and other natural textures can add depth to the kitchen, while providing a subtle backdrop for a minimalist design.
3. Metallic Accents: Metallic accents like gold, silver, and copper accents can add a touch of glamor and sophistication to the kitchen. especially if you're going for a more modern look.
4. Mural Wallpaper: Large-scale murals, such as tropical landscapes, cityscapes, or floral motifs, can create a dramatic backdrop for the kitchen, and add a touch whimsy to the space. You'll see these murals popping up all over kitchens in 2023.
Block Islands are IN!
Block islands are all the rage, and for good reason! They are a great way to add a visual element to the space while providing great storage and organization (and they are ALSO trending in 2023 kitchen design.)
Here are a few trending block island designs of 2023:
1. Two-Tone Color Scheme: A popular trend in kitchen design is a two-color scheme, and this can be incorporated into block islands. Combining contrasting colors, such as black and white or blue and gray, can create a striking visual effect to the kitchen.
2. Waterfall Edges: Waterfall edges are a trending design element for block islands in 2023. This technique involves extending the countertop material down the sides of the island, creating a seamless, continuous look that adds a touch of elegance and sophistication to the kitchen.
3. Mixed Materials: Mixing and matching materials is a popular trend in kitchen design, and it can be applied to block islands as well. Combining different materials, such as wood and marble, or concrete and stainless steel, can create a unique and interesting look that adds texture and depth to the kitchen.
4. Multi-Level Design: A multi-level block island is a trending design element for 2023. This type of island features multiple levels or tiers, providing different work surfaces for cooking, preparing, and serving food. It can also incorporate seating areas, allowing for socializing and entertaining in the kitchen.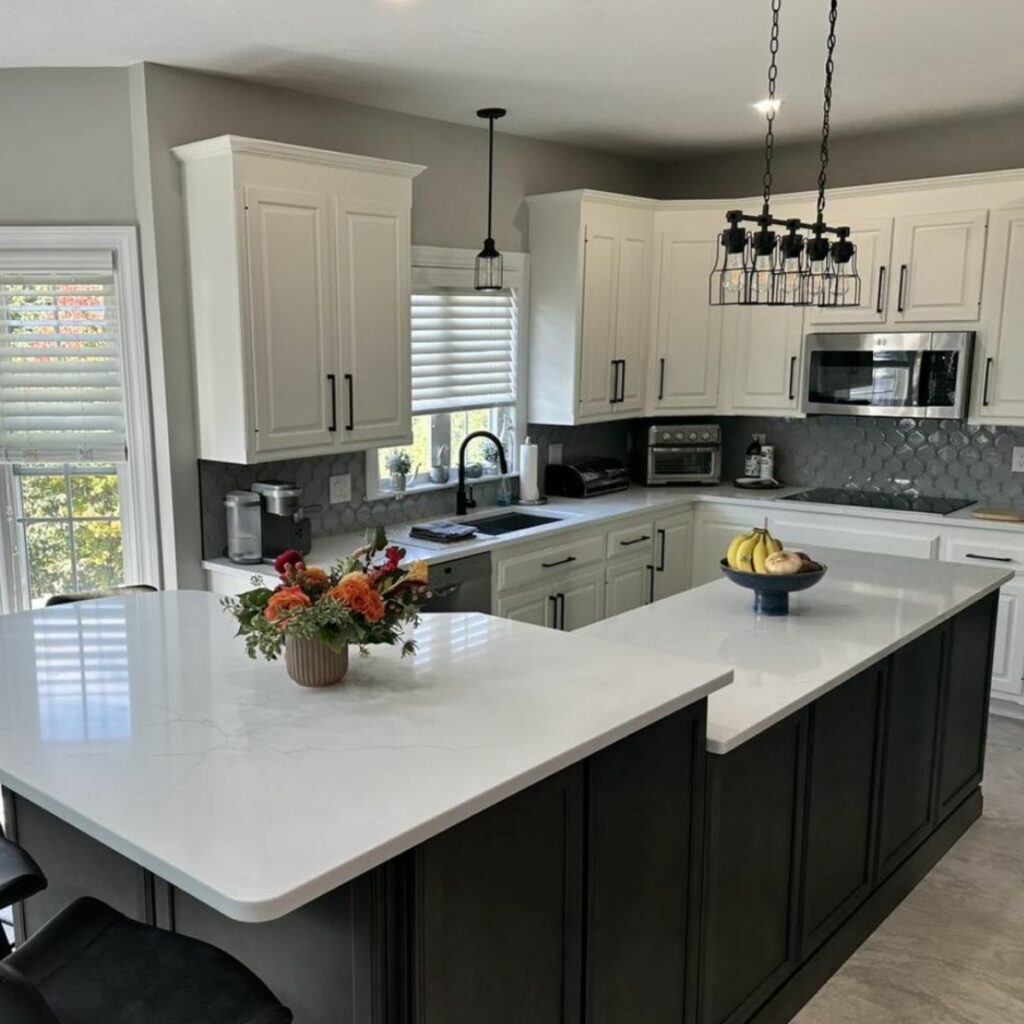 Update Your Kitchen with a Luxury Builder in Central Massachusetts!
As we've said before, the kitchen is the heart of your home and we'd love to make your kitchen the favorite room in your house! Let's create a space that's functional, elevated, and worth showing off.
We're not just here to make it look pretty—we'll work with you to design a kitchen that fits your lifestyle.
Contact us today to discuss a custom kitchen design that brings your kitchen dreams to life!