Kitchen Remodeling Massachusetts
The Kitchen of Your Dreams Awaits
Kitchen remodel services in Massachusetts that never goes out of style
Our kitchen remodeling project philosophy & services
Your kitchen is more than just a room—it's the heart of your home, where you spend your nights cooking and your weekends entertaining. Let's create a kitchen that's functional, elevated, and worth showing off.
We're not just here to make it look pretty—we want to make it work for you and we'll design a kitchen that fits your lifestyle. We offer all types of kitchen remodel services. Bonsai Builders can help with increasing counter space, kitchen cabinet refacing, cabinet refinishing, custom cabinetry, installing a new kitchen island, open shelving, and everything in between. We then provide all the finishing touches to give you your ideal kitchen.
When looking for kitchen remodeling contractors it is important to find one that works with you from start to finish. At Bonsai Builders, we work with you on kitchen design. We help with shopping for products and finishes such as custom cabinets, granite countertops, quartz countertops, kitchen flooring, kitchen sinks, lighting and much more. Then we take care of everything from building, electrical, plumbing, permits, etc.  We offer the best kitchen craftmanship in Massachusetts.
"From the moment Kristin and Jason came into our home for the initial consultation, we felt like we had found our match. They were friendly, professional, and knowledgeable. They made us feel at ease and clearly outlined the process."

– Sarah Hopkins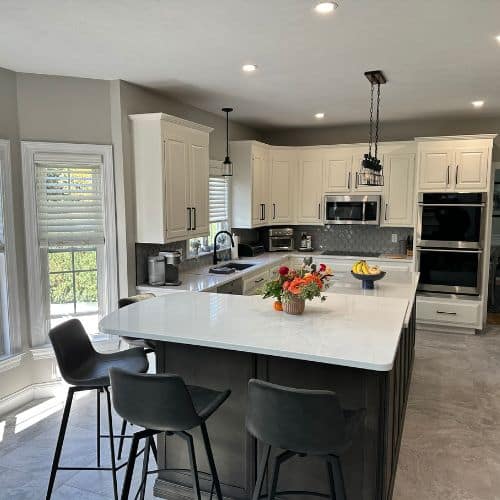 Full Service Kitchen Remodeling Services
Sit Back and Relax
We'll manage every detail, from obtaining permits and getting your project started to cleaning the space – so it's ready for you to use ASAP. We take kitchen project management seriously.
Almost all our work is handled in-house, ensuring high-quality standards while remodeling your kitchen.
We always take special care to protect your home during construction so that it impacts your life as minimally as possible—because your happiness is  our priority.
Yout kitchen is the focal point of your home. We'll make sure to give it the visual appeal along with the best functionality possible with our high quality work and standards. Let us handle your next home improvement project. 
What's the Kitchen Remodeling Process?
Our team will create a detailed custom design just for your space. Your kitchen renovation project is ready to begin!
Step 2:
Let's Shop Together
Not sure what you want? We'll take you shopping and help you choose. Our design team is ready to get it perfect!
Step 3:
Turn-Key Delivery
Building, electrical, plumbing, permits, etc., we've got the tedious tasks covered. We're a full service remodeling company.
Step 4:
Master Craftsmanship
Enjoy master craftsmanship where no detail is left out. Kitchen remodels are our specialty!
Ready to bring your dream kitchen to life? Let's get started!