Kitchen Remodel Contractors in Maynard
Searching for an affordable kitchen remodel contractor in Maynard? Bonsai Builders provides the greater Massachusetts area with beautiful kitchen makeovers at the lowest possible cost.
Affordable Kitchen Remodel Services in Maynard
Bonsai Builders specializes in providing comprehensive kitchen remodeling services that transform homes into stunning culinary spaces through high quality work. With our expertise in kitchen design, we create personalized layouts that maximize functionality and aesthetics, ensuring each of our client's unique vision comes to life. We also takes care of shopping for high-quality finishes, from exquisite countertops to elegant cabinetry, meticulously selecting materials that match the desired style and budget. With our skilled craftsmen, we handle every aspect of the kitchen remodeling process, including building, electrical and plumbing work, ensuring a seamless and efficient transformation. We navigate the complexities of permits and regulations, ensuring compliance with local codes. Our commitment to master craftsmanship is evident in every detail, from precise installations to exquisite finishes, resulting in breathtaking kitchens that exceed expectations. We are your go-to Maynard kitchen remodeling contractors.
Are you ready to elevate your kitchen with our expert remodeling services? Get in touch now for a free estimate. See why we've been voted among the best kitchen remodeling companies.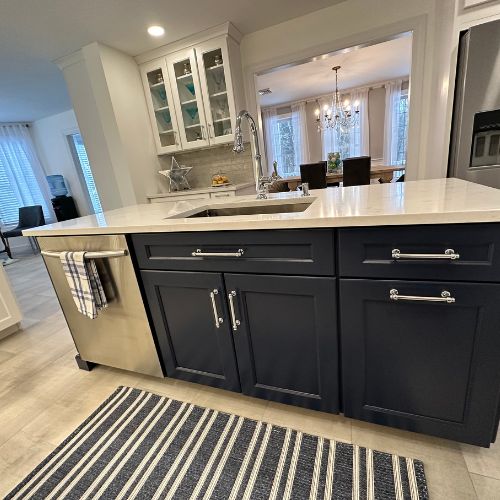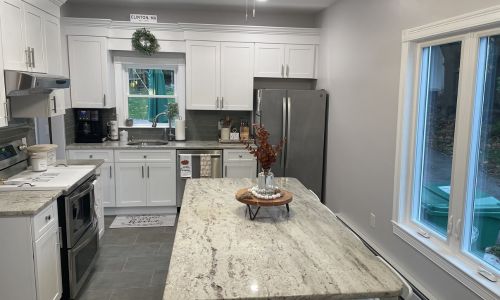 Kitchen Makeovers
As a kitchen remodeler, we have an extensive track record of exceptional kitchen makeovers, making them the top choice in the industry. With years of experience under their belt, they possess the expertise to envision and execute stunning transformations that meet and exceed client expectations. Their team of skilled professionals excels in every aspect of kitchen remodeling, from innovative design concepts to flawless execution. Bonsai Builders' dedication to superior craftsmanship, attention to detail, and commitment to customer satisfaction sets them apart, making them the go-to option for those seeking the best kitchen makeover experience at a fair price. You can trust our construction services.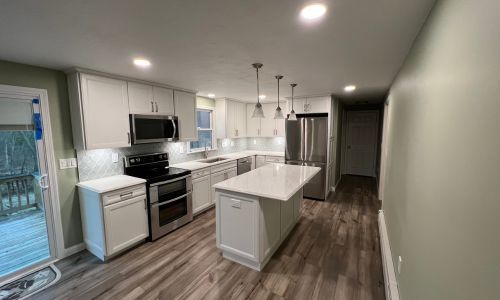 Small Kitchen Remodels
Bonsai Builders has established itself as a leader in small kitchen remodels, delivering remarkable transformations that maximize space and functionality while improving visual appeal. Their expertise in optimizing limited square footage sets them apart, as they specialize in designing innovative solutions that make small kitchens feel spacious and efficient. With meticulous attention to detail and a keen eye for design, Bonsai Builders creates customized layouts, utilizes clever storage solutions, and incorporates stylish finishes to elevate even the smallest kitchens. Their commitment to quality craftsmanship, personalized approach, and exceptional customer service ensures that each small kitchen remodeling project is a success.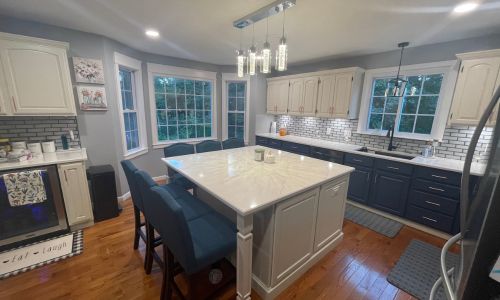 Custom Kitchen Renovation
Bonsai Builders is renowned for their expertise in custom kitchen renovations, making them stand out among other contractors in the field. With a wealth of experience and a deep understanding of individual client needs, they excel in translating unique visions into reality. Bonsai Builders goes above and beyond by offering tailored design solutions that cater to specific preferences and lifestyles, ensuring that each custom kitchen is a reflection of the client's personality. Their team of skilled craftsmen demonstrates exceptional attention to detail and unwavering commitment to quality, resulting in flawless execution and breathtaking finishes. Bonsai Builders is the top choice for those seeking truly exceptional custom kitchen renovations.
Fast & Easy Kitchen Remodel Process
Our team will create a detailed custom kitchen design just for your space. Your kitchen project is ready to begin!
Not sure what you want? Our kitchen remodeling contractors take you shopping and help you choose. Our design team is ready to get it perfect!
Building, electrical, plumbing, permits, etc., we've got the tedious tasks covered. We're a full service remodeling company.
Enjoy master craftsmanship where no detail is left out. You'll see why we're voted among the best kitchen remodeling contractors.
What Our Maynard Clients Say

"Bonsai Builders made our dream kitchen become a reality…"
Bonsai Builders made our dream kitchen become a reality by taking our outdated 90s kitchen into the next century. A 100% remodel, which unlike most big box store contractors, Bonsai was equipped with all talent to execute all our house remodeling tasks, large or small. The team is a local business and treats all their employees as family as evident by how well I was treated by everyone. True professionals. I have already scheduled the next phase of my home remodel with them which is the real sign of a happy customer.

"We hired them for a remodel of our outdated kitchen and bathroom and it was the right decision."
The communication was great throughout the process from the initial planning and design to any running changes made along the way. Even when we discovered an issue after the job was complete, Jason and his team came right back out to fix it to make sure we were happy. Genuinely good people who I trusted in my home and were respectful of our living space, even when I had to work from home. They cared about the end result and we will absolutely use them again for future projects.

"We could not be more happy with our new kitchen and surrounding rooms…"
We were ready to go ahead and begin our kitchen renovation and home improvement project. Our number one concern was communication with us and if, when they started, they would be here everyday and not running to some other job and leaving us to wonder why we weren't important anymore. They had teams of extremely loyal employees who were respectful and polite to us. Kristin and Jason are well respected by the guys that worked here. That meant a lot. The communication never wavered. We could not be more happy with our new kitchen and surrounding rooms.
Maynard Kitchen Remodel FAQ
Q. How much does it cost to remodel a kitchen in Maynard?
A. The cost of remodeling a kitchen in Maynard can vary significantly depending on several factors such as the size of the kitchen, the scope of the project, the materials chosen, and the complexity of the design. On average, a project like this in Maynard can range anywhere from $20,000 to $60,000 or more. It is essential to consult with a professional remodeling contractor, like Bonsai Builders, who can provide a detailed estimate based on your specific requirements. They will consider factors such as labor, materials, permits, and any additional services needed, ensuring transparency and helping you achieve the desired results within your budget.
Q. What cost the most in a kitchen remodel?

A. The components of a kitchen remodel that typically have the highest costs include custom cabinets, countertops, and appliances. These elements can significantly impact the overall budget due to the quality of materials chosen and the complexity of installation. Custom or high-end kitchen cabinets can be a substantial investment, while premium countertops such as granite, quartz, or marble can also contribute to the cost. Additionally, top-of-the-line appliances, including refrigerators, stoves, and dishwashers, tend to come with a higher price tag. Consulting with a professional remodeling contractor, such as Bonsai Builders, can provide a comprehensive estimate tailored to your specific needs and help you make informed decisions about your project.
Q. How much does renovation cost per square foot in Maynard?

A. The cost of renovation per square foot in Maynard can vary based on various factors, including the scope of the project, the level of finishes, and the complexity of the work involved. On average, the cost of renovation in Maynard can range from $100 to $300 per square foot. However, it's important to note that this is a general estimate, and actual costs may vary. Factors such as the condition of the existing space, the extent of structural changes required, and the choice of materials can significantly impact the overall cost. To get an accurate estimate for your specific renovation project in Maynard, it is advisable to consult with a professional contractor like Bonsai Builders, who can assess your needs and provide a detailed cost breakdown based on your unique requirements.
Q. How do you calculate the cost of a kitchen remodel?
A. Calculating the cost of a kitchen remodel involves considering several key factors. Firstly, determine your budget and what you are willing to spend on the project. Next, assess the scope of the remodel, including the size of the kitchen, desired changes, and any additional features. Consider the materials you wish to use for elements such as kitchen cabinets, countertops, flooring, and appliances, as these can significantly impact costs. It's crucial to obtain multiple quotes from contractors to compare prices and ensure accuracy. Additionally, don't forget to factor in labor costs, permits, and any unforeseen expenses. By considering these elements and consulting with professionals like Bonsai Builders, you can create a comprehensive estimate that aligns with your budget and remodeling goals.
Q. How long does a kitchen remodel take?

A. The duration of a kitchen remodel can vary depending on the scope of the project and various other factors. Generally, it can take anywhere from several weeks to a few months to complete. The timeline is influenced by factors such as the complexity of the design, the extent of structural changes, the availability of materials, and the efficiency of the construction process. It is crucial to work with a professional remodeling contractor like Bonsai Builders, who can provide a realistic timeline based on the specific details of your project. They will coordinate the different phases of the remodel, ensure efficient scheduling, and communicate any potential delays or changes. By working closely with a kitchen designer & general contractor and having clear expectations, you can help ensure a smooth and timely kitchen remodeling process.
Q. How much value does a kitchen renovation add?
A. A kitchen renovation has the potential to add significant value to a home. According to industry experts, a well-executed one can typically yield a return on investment (ROI) of around 70-80% of the project cost. However, the exact value added can vary based on several factors such as the local real estate market, the quality of the renovation, and the preferences of potential buyers. A modern, functional, and aesthetically pleasing kitchen is often a key selling point for homebuyers and can increase the overall appeal and perceived value of the property. It's important to note that while kitchen or house renovations can enhance a home's value, it should also be considered as an investment in enjoyment and lifestyle improvement for the current homeowner. Consulting with a professional remodeling contractor can help ensure that your kitchen renovations strike the right balance between personal satisfaction and potential resale value.
Ready to bring your kitchen renovation project to life?
Let's get started!