Bathroom Remodels in Massachusetts
Looking for a complete bathroom remodel in Massachusetts? Look no further than Bonsai Builders. Our expert team will exceed your expectations in every aspect of your project.
Bathroom remodel services in Massachusetts that create amazing spaces
Do you want a bathroom that's more like a spa than anything else? Our bathroom remodel services can help your dreams become reality.
Whether you're looking for something simple or over-the-top, we have the bathroom remodeling expertise to create it. Learn more about why we are trusted bathroom remodeling contractors across Massachusetts with over 125 happy clients.
We'll work closely with you to ensure that every aspect of your bathroom meets or exceeds your expectations—from the layout and design phase of the room itself to the fixtures and accessories. We'll then help you go shopping for a new shower, walls, flooring, bathtub, sinks that have great quality and are within budget. Whether it's a completely new half bath or upgrading an existing full bath or master bath, we have the expertise to get it done.
Our team will also take care of all necessary permits and paperwork as part of our service, so nothing is standing between you and your dream bathroom. We love giving our clients custom bathrooms. Our precision installation is what sets us apart from the rest. We provide quality work that local homeowners rave about. Careful planning and professional communication go into exery bath remodel we complete.
Contact us now to learn of the many benefits of having Bonsai Builders complete your bathroom renovation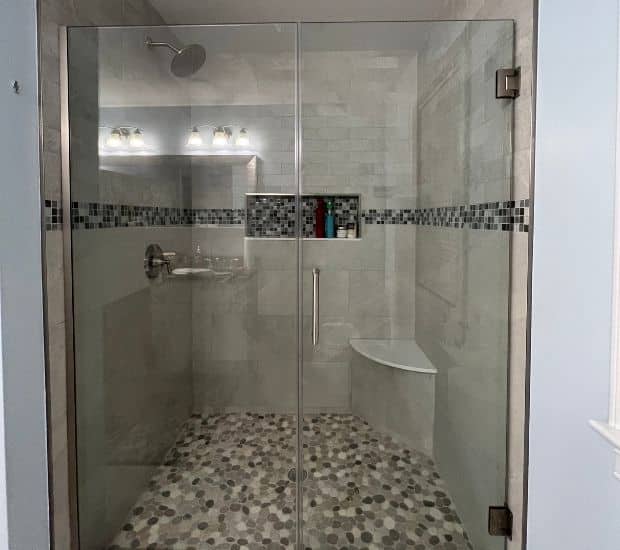 "From the moment Kristin and Jason came into our home for the initial consultation, we felt like we had found our match. They were friendly, professional, and knowledgeable. They made us feel at ease and clearly outlined the process."

– Sarah Hopkins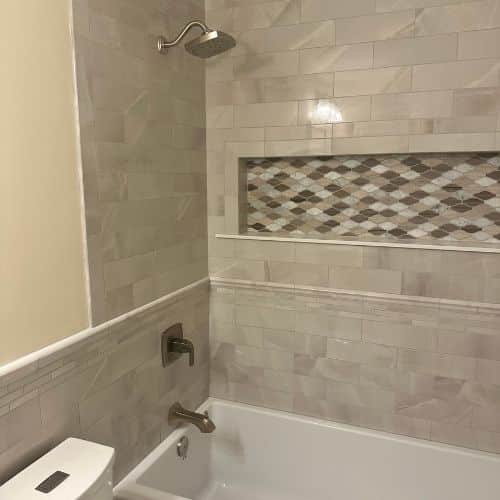 Proven bathroom renovation services
Bathrooms might be small, but there are a lot of details that go into making them perfect.
At Bonsai Builders, we take pride in providing proven bathroom renovation services that cater to the unique needs and preferences of our clients. We understand that while bathrooms may be small in size, they require careful attention to detail in order to achieve perfection. That's why we employ the latest technology and techniques in materials installation, ensuring that our team delivers our renovations with the highest quality workmanship.
Bathroom remodeling is an art form, a business, and our dedicated team of experts is committed to working tirelessly to elevate your existing space or create a brand new bathroom that exceeds your expectations. We believe that every bathroom should be a sanctuary, a place where you can unwind and rejuvenate, and we strive to bring that vision to life.
Our range of services encompasses various aspects of bathroom renovation projects. Whether you desire a modern and sleek design or a more traditional and cozy atmosphere, our experts are equipped to handle it all. From the initial design phase to the final touches, we pay meticulous attention to every detail, ensuring that your dream bathroom becomes a reality.
Our reliable contractors specializes in a wide range of bathroom features and elements. We excel in creating curb-less entries, which not only enhance the accessibility of your bathroom but also add a touch of elegance and sophistication. Custom niches are another aspect we focus on, providing you with stylish and functional storage solutions that seamlessly blend with the overall design.
When it comes to tile work and showers, our craftsmanship is unmatched. Whether you prefer intricate mosaic patterns, contemporary subway tiles, or natural stone finishes, we have the expertise to bring your ideas to fruition. Our team is skilled in creating stunning shower spaces that combine functionality and aesthetic appeal, ensuring a truly luxurious experience.
For those seeking ultimate relaxation, we offer expertise in the installation of soaker tubs. We understand the importance of creating a serene environment where you can indulge in a soothing bath after a long day. Our team will guide you in choosing the perfect tub that fits your space and complements your desired design aesthetic.
Throughout the entire bathroom remodel process, we prioritize your satisfaction and comfort. We take special care to protect your home during construction, minimizing any disruptions to your daily life. Our contractors will be with you every step of the way, ensuring that the project progresses smoothly and efficiently. Your happiness is our top priority, and we are committed to delivering a bath remodel that exceeds your expectations.
At Bonsai Builders, we combine our expertise, attention to detail, and dedication to customer satisfaction to have customers create exceptional bathroom remodeling experiences. Trust us to transform your bathroom into a haven of comfort, functionality, and style. Contact us today to begin the journey towards your dream bathroom.
Our turn-key full bathroom renovation operation will deliver results without stress.
What's the Bathroom Remodeling Process?
Step 1:
Custom Bathroom Design
Stylish, classic design that suits your unique style. Your bathroom remodeling job is underway.
Step 2:
Let's Shop Together
Shopping can be tough, but we can help! Whether it's tubs, shower, fixtures, sinks, or countertops we'll find the best proudcts at the best value. We're here for the entire experience.
Step 3:
Precision Installation
You'll receive detailed installation from our laser-focused team. Our bathroom remodelers won't rest until they've done an amazing job in your house.
Step 4:
Master Craftsmanship
Because at Bonsai Builders, the details matter the most. Our remodeling services include many benefits and are trusted across the greater Boston area.
Ready to bring your dream bathroom to life? Our bathroom remodel services are just what you need.
Let's get started!