Bathroom Remodel Contractors in Boxborough
Looking for a cost effective bathroom remodel contractor in Boxborough? Bonsai Builders offers stunning bathroom transformations at the most competitive prices for homeowners in Boxborough.
Affordable Bathroom Designers in Boxborough
At Bonsai Builders, our bathroom remodeling services encompass a comprehensive process that ensures the utmost attention to detail and customer satisfaction. Our journey begins with a detailed design phase, where our experts work closely with you to understand your vision and translate it into a personalized bathroom plan. We go the extra mile by accompanying you on a shopping excursion to select the perfect bathroom materials including tubs, sinks, countertops, walls, flooring, shower, luxurious tile, fixtures and more. We ensure that every element aligns with your style, desired quality and preferences at the best possible value. Once the design and shopping are complete, our team of bathroom remodelers executes the precision installation with meticulous care and expertise to give you a well designed and modern bathroom. From plumbing fixtures to tiles and cabinetry, we bring together every component to create a seamless and functional space. Our commitment to master craftsmanship shines through in every aspect of the full bathroom renovation and remodeling process, resulting in a bathroom that not only meets but exceeds your expectations. Whether it is a new bathroom, full bathroom remodel, the addition of a half bath, you can trust in our quality work to give you the bathroom renovation you've been wanting.
Have you been searching for bathroom remodeling contractors who will perform an amazing job? Get in touch now for a free estimate. See why we've been voted among the best bathroom remodelers in Boxborough.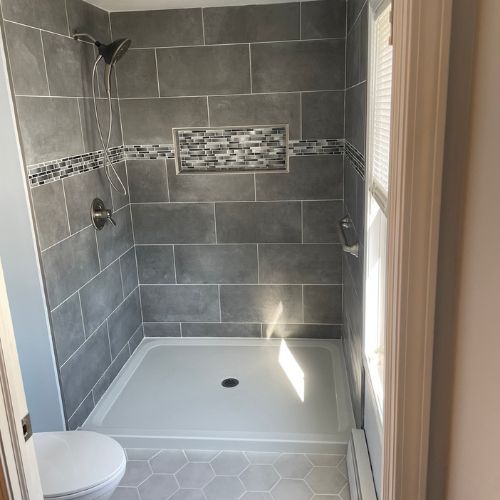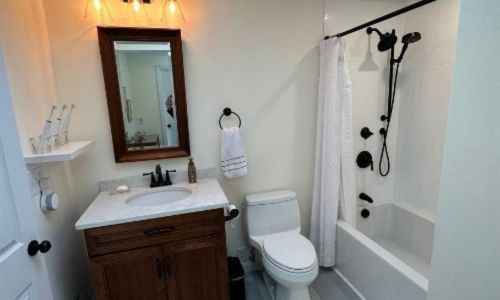 Bathroom Makeover
Bonsai Builders stands as the premier contractor for bathroom makeovers in Boxborough. With a solid reputation built on exceptional craftsmanship and unparalleled customer service, we have earned our position as the leading choice for transforming bathrooms into stunning spaces. Our expert team of bathroom remodelers possess the expertise and creative vision to bring your bathroom dreams to life. From concept to completion, we deliver top-notch renovations that blend functionality with aesthetic appeal, ensuring a truly transformative experience. Trust Bonsai Builders for your bath remodel needs, and let us exceed your expectations with our exceptional services.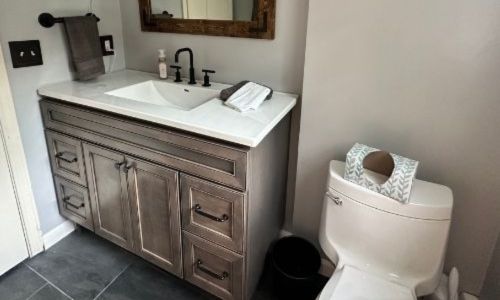 Small Bathroom Remodels
When it comes to small bathroom remodels in Boxborough, Bonsai Builders reigns as the leading general contractor here in the area. We understand the unique challenges and opportunities that arise when working with limited space, and our team of expert bathroom remodelers excels at maximizing functionality and style in small bathroom renovations. With a focus on innovative design solutions, efficient space utilization, and high-quality craftsmanship, we have established ourselves as the go-to choice for transforming compact bathrooms into beautiful, functional retreats. Count on Bonsai Builders to deliver exceptional results that will exceed your expectations, no matter the size of your bathroom. We'll make the existing space work for your family.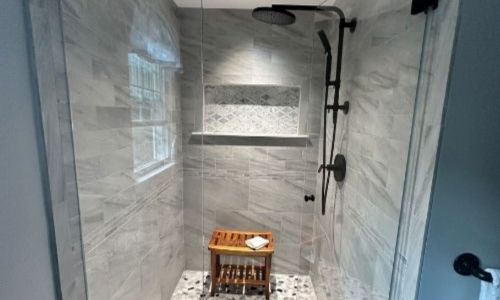 Custom Bathroom Renovation
Bonsai Builders takes pride in offering custom bathrooms in Boxborough, tailored to the unique preferences and requirements of each client. Our team of skilled bathroom remodelers understands that every homeowner has a distinct vision for their ideal bathroom, and we are committed to bringing those visions to life. From concept to completion, we work closely with our clients, ensuring that every detail is carefully considered and incorporated into the design. With our expertise in custom fixtures, finishes, and layouts, we create personalized bathroom spaces that reflect your style and enhance your daily routine. When it comes to transforming your bathroom into a truly one-of-a-kind oasis, trust Bonsai Builders for exceptional craftsmanship and unmatched attention to detail throughout the entire process.
Our Comprehensive Bathroom Remodel Process
Stylish, classic interior design, that suits your unique style. Your bathroom remodeling job is underway.
Shopping can be tough, but we can help! Whether it's tubs, shower, fixtures, sinks, or countertops we'll find the best proudcts at the best value. We're here for the entire experience.
3. Precision Installation
You'll receive detailed installation from our laser-focused team. Our bathroom remodelers won't rest until they've done an amazing job in your house.
Because at Bonsai Builders, the details matter the most. Our remodeling services include many benefits and are trusted across Boxborough. We're proud to offer bathroom remodeling done right.
What Our Boxborough Clients Say

"We absolutely love our new bathroom and would without hesitation recommend Bonsai Builders for any project!"
We had only one full size bathroom in our house, we lived with a completely outdated space with the quintessential blue bathtub for 22 years. We met with Jason and Kristin from Bonsai builders and immediately knew they were the company we wanted to have do our job. They made space by removing a closet and incorporating it into the bathroom, allowing us to move our washer and dryer into the space. Jason and his team are absolutely outstanding, paying attention to every detail. They started and ended the job efficiently and on time. They are also completely accessible, answer questions and phone calls promptly.

"Working with Bonsai was great!"
We had an unforeseen renovation/bathroom model due to an insurance claim. The project included was a complete bathroom reno that involved replacing the subfloor, all new framing, tile, floor, new shower stall as well as replacing ceilings on the mail floor and painting a large portion of the house. Bonsai was able to fit us into their schedule pretty quickly and were very east to work with. Kristin's design help was great and the guys that came to the house to do the work were very professional and communicated with us regularly. As with any major project there were some hiccups, but Jason was always available to take our call and addressed any concerns we had immediately. We would definitely work with the Bonsai team again.

"The detail and thoughtfulness that the entire team showed our mother throughout the project makes us highly recommend them for any future projects."
Jason, Kristin and their team were fantastic! They completed a mold restoration project for our elderly mother's home involving a small bathroom and kitchen. The team was very accommodating in fitting a smaller project into their busy schedule quickly. There were very few issues during the project but anything that did come up, was proactively addressed skillfully with detail, and at a reasonable cost. Thank you Bonsai Builders!
Boxborough Bath Remodel FAQ
Q. Do you need a permit to remodel a bathroom in Boxborough?
A. Yes, permits are generally required for bathroom remodeling projects in Boxborough. It is important to consult with local authorities or a professional contractor to ensure compliance with the necessary permits and building codes.
Q. What is the most expensive part of a bathroom remodel?

A. The costliest aspect of a bathroom remodel is often the labor and installation, followed by the materials and fixtures. Skilled labor is required for tasks such as plumbing, electrical work, tiling, and cabinetry, which can significantly contribute to the overall expense. Additionally, high-quality materials and fixtures, such as luxury tiles, custom cabinets, and high-end faucets, can also drive up costs. However, the specific expenses can vary depending on the scope of the project, the desired level of customization, and the chosen materials and finishes.
Q. Can you build a new bathroom anywhere in your house?

A. In theory, you can build a new bathroom anywhere in your house, as long as there is available space and access to necessary utilities. However, it's important to consider practicality and feasibility. Factors like plumbing and electrical connections, ventilation, and structural considerations must be taken into account. It's recommended to consult with a professional contractor or architect to assess the feasibility of adding a new bathroom, as they can evaluate the space, provide guidance on permits and building codes, and help design a functional and efficient layout.
Q. How long does is take to build a bathroom in a house?
A. The duration to build a bathroom in a house varies depending on several factors, including the scope of the project, the complexity of the design, and the availability of materials and labor. Typically, a bathroom construction project can take anywhere from a few weeks to a few months. Factors such as demolition, plumbing and electrical work, installation of fixtures and finishes, and final touches can influence the timeline. It is best to consult with a professional contractor who can provide a more accurate estimate based on your specific requirements and the conditions of the project.
Q. How much does it cost to build a bathroom in Boxborough?

A. The cost of building a bathroom in Boxborough can vary widely depending on factors such as the size of the bathroom, the level of customization, the choice of materials and fixtures, and the complexity of the project. On average, a bathroom construction project can range from $10,000 to $30,000 or more. It's recommended to consult with a professional contractor who can assess your specific needs and provide a more accurate estimate based on local labor and material costs, as well as any unique requirements or challenges associated with your project.
Q. How much value does a bathroom add to your house?
A. Adding a bathroom to your house can increase its value, but the exact amount varies depending on various factors such as location, market conditions, and the quality of the bathroom. Generally, bathrooms have a high return on investment, with estimates ranging from 50% to 80% of the project cost added to the home's value. However, it's important to note that the overall value increase will depend on the quality of the renovation, the number of existing bathrooms, and the preferences of potential buyers in your specific market. Consulting with a local real estate professional can provide more accurate insights for your area.
Ready to bring your bathroom renovation project to life?
Let's get started!