Are you ready to transform your musty or unfinished basement into a functional space you use all the time? If so, this post is for you! It's common in many homes for the basement to be a neglected space. But it doesn't have to be! You can transform your basement into a functional and beautiful space your family loves.

Maybe you want to create a second living room or family space for everyone to enjoy, or perhaps you want to create a dedicated workout space or laundry room with extra storage. Whatever you're looking to do with your basement remodel, the possibilities are endless.

Before you start your remodel, there are quite a few things you should consider. Basement remodels are a significant project, and it's not something you want to rush into. Take the time to research, gather ideas, and talk to professionals to ensure you get the results you desire.
Here's everything to expect when considering a basement remodel in Central Massachusetts!
What is a basement remodel?
A basement remodel refers to renovating or upgrading an unfinished or partially finished basement to create usable living space. The goal of a basement remodel is to transform the space into a functional and comfortable area that can be used for a variety of purposes, such as a home theater, a family room, a guest bedroom, a home office, a gym, or a playroom.

A typical basement remodel involves a range of tasks, including adding walls, insulation, flooring, lighting, plumbing, electrical wiring, and heating and cooling systems. Depending on the scope of the project, a basement remodel may also involve waterproofing the space, installing windows or doors, and adding storage solutions.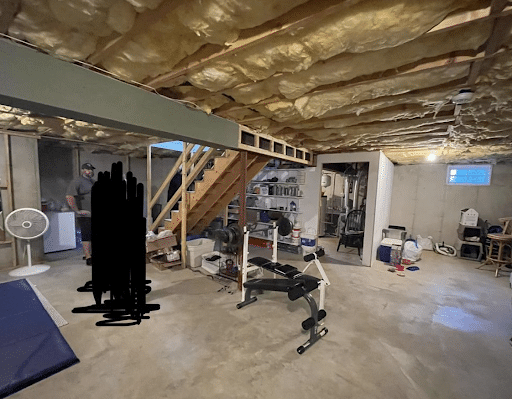 Planning a basement remodel
If you're planning a basement remodel, there are several factors to consider to ensure your project goes as planned and meets your vision.
Here's what to consider before starting your basement remodel!
1. Assess the space: Start by taking a good look at your basement and assessing its strengths and weaknesses. Consider the size, layout, and existing features, such as windows, doors, and plumbing. Identify any issues that need to be addressed, such as moisture or structural problems.
2. Determine the purpose: Decide your goals for the space. This will guide the design and layout of the remodel.
3. Establish a budget: Determining your budget will help you prioritize your wish list and pick materials and finishes. Be sure to build in a cushion for unexpected expenses.
4. Hire a professional: Consider hiring a professional contractor or designer to help with the planning and execution of the remodel. They can offer expert advice on the best materials, layout, and design elements to meet your needs and budget.
Click here for a comprehensive guide on how to prepare for a home remodeling project!
Review your zoning laws
Zoning laws are regulations that govern how land and buildings can be used in a specific area. Zoning laws may come into play in several ways for a basement remodel.
Firstly, zoning laws can dictate what types of rooms can be added to a basement. For example, some zoning laws may require that a basement has a minimum ceiling height or that it can only be used as a storage space. Other zoning laws may allow for additional rooms, such as a bedroom, bathroom, or kitchenette, as long as specific requirements are met, such as proper ventilation, adequate lighting, and egress windows.
Zoning laws can also regulate how much of your basement can be used for living space. Some areas may restrict the percentage of a home that can be below ground level or limit the amount of finished space in a basement. These restrictions are in place to ensure that the home is safe and habitable.
In addition to zoning laws, building codes may also apply to basement remodels. Building codes specify the minimum standards for construction and safety, including requirements for electrical and plumbing systems, fire safety, and structural stability. It's crucial to comply with building codes to ensure your basement remodel is safe and up to code.
To ensure compliance with zoning laws and building codes, it's essential to work with a professional contractor who is familiar with the regulations in your area. They can help you obtain any necessary permits.
Consider ventilation
If you're doing any work in your basement, it's important to consider ventilation. Ventilation can be a big part of the remodel, and it's something that many homeowners don't think about until they start planning out their basement space.
Before you get started, ask yourself these questions:
Where will my ventilation system go? Will I need one at all? How much will it cost me if I do decide on installing one? (This may include ductwork or other materials.)
What kind of airflow do I need throughout my basement? Will this require more than one venting point?
Proper ventilation is an important consideration in any basement remodel. A well-ventilated basement can help prevent moisture buildup, improve air quality, and reduce the risk of mold growth, so spend time determining ventilation accessibility!
Don't skimp on the contractor!
If you're going to hire a contractor for your basement remodel, don't skimp on the experience. No matter how much research and planning you do, there are going to be things that come up that are outside of your expertise. A good contractor will know how to deal with these issues efficiently – so they don't delay or derail your project.
When hiring the right contractor, review their experience with basement remodels before hiring them. It's always a good idea to check out their past reviews and portfolio and meet with them in-person to ensure they're a good fit.
Start your basement remodel in Central Massachusetts!
Are you ready to get your basement remodel started? Bonsai Builders specialize in creating custom-built basements that are carefully constructed and beautifully built!
Whether you want a space for entertaining, a home office, or just an extra room for storage, we have the skills and expertise to make it happen. We take pride in our ability to create beautiful spaces for our customers—and we can't wait to help you bring your vision to life!

Send us a message using the form below, or call us at (774) 764-8885. We'll reply within 24 hours.