Table of Contents
Basements are often overlooked and underutilized spaces in many homes.
However, they hold tremendous potential and can be transformed into exquisite living areas, even when dealing with the unique challenge of a low ceiling.
This article will guide you through the process of a basement with low ceiling remodel, offering creative ideas and simple tips to help you turn your basement into a luxurious and functional living space.
Let's dive into understanding the challenges of low basement ceilings.
Understanding the Challenge: Low Basement Ceilings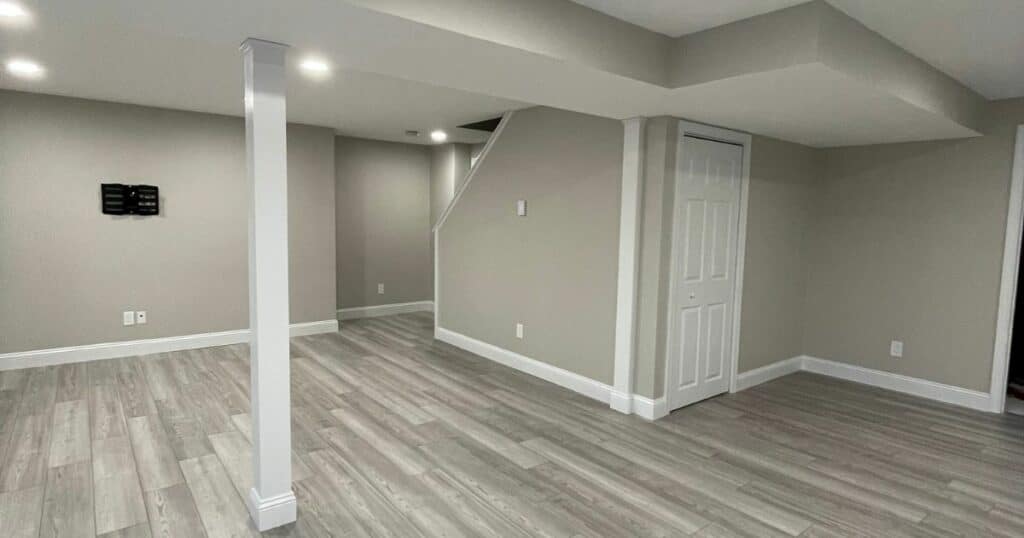 Before embarking on a basement remodel, it's essential to understand the challenges associated with a low basement ceiling.
Older houses, in particular, can have basements with low ceiling heights, which can make the whole space feel enclosed and claustrophobic. There are several issues you might encounter:
Limited storage capacity
Poor lighting conditions
Reduced square footage
Outdated ceiling tiles
Bare construction/framework
Limited living space
Potential exposure to hazardous materials like lead or asbestos
However, these challenges can be overcome with innovative design ideas, and a low ceiling basement can be transformed into a visually appealing and functional area.
Low Basement Ceilings: Not a Design Hurdle
While low ceilings may seem daunting initially, there are numerous ways to create a beautiful and comfortable space. By using carefully chosen furniture, decor, and clever design tricks, you can make the room appear taller and more spacious.
Here are several ideas and considerations for your low basement ceiling design:
Basement Ceiling
If you're puzzled about what to do with a low basement ceiling, there's no shortage of ideas. Consider using distinctive corrugated metal ceiling tiles to add depth and dimension.
lternatively, you could install painted paneling to create a much more light up, bright living area with loads of architectural lines. Making use of exposed beams and ductwork can achieve a trendy industrial-chic style. By removing the dry wall and painting any exposed floor joists, you can make unfinished basements appear larger in room space.
If these ideas don't align with your style, simply painting your basement ceiling white or another light color can create the same color and illusion of a higher ceiling.
Painted Basement Ceilings
When designing your low basement ceiling, the walls are another crucial aspect.
Stick to cool, light paint colors to make the room feel larger and more spacious. Avoid overdoing it with bold colors or wallpaper patterns.
Flooring
The way your floor is installed can significantly impact how the size of your space is perceived. Opt for floor paneling installed in vertical lines parallel to the room's longest wall to make the basement look lengthier and larger.
Furniture
Incorporate compact furniture to create more space in your basement while still creating an attractive, timeless design.
Many mid-century modern pieces feature simple, low-profile silhouettes and shorter, thinner legs, which can make the appearance of a larger space..
Windows
A low basement ceiling can make the room feel dark, especially if it lacks natural light.
Installing new windows is one of the best ways to open up the space and make the whole room look and feel lighter and brighter.
Recessed Lighting
Light fixtures play a critical role in enhancing the appearance of low ceilings. Recessed lighting is a common solution as they sit flush against the ceiling, keeping a low profile.
Recessed lights are less noticeable than other ceiling lighting fixtures since they occupy space inside the basement ceiling, making them less noticeable.
Design Features & Decor
Smart design choices can help enhance the space while still providing ample room for storage. Consider low-profile under-staircase storage ideas or installing floor-to-ceiling cabinets along one wall.
Hanging pictures higher up on the wall can give the illusion that the room is larger than it actually is
Additionally, thoughtfully chosen decor can help emphasize horizontal lines in the vertical space.
Six Low Ceiling Basement Ideas for a Stunning Transformation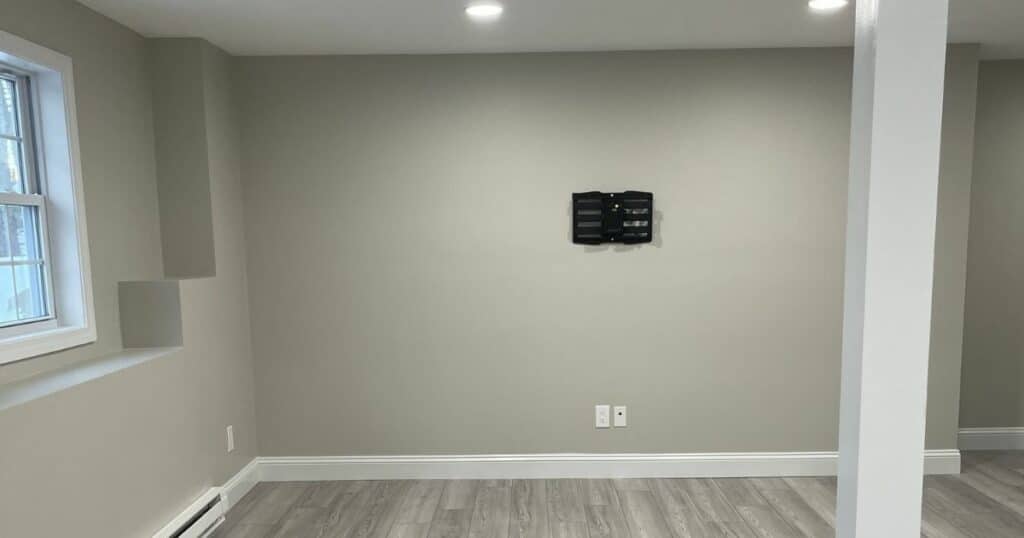 Now that we have covered some basic ideas let's dive into more detailed design ideas. Here are six stylish, cost-effective suggestions to defeat your low ceilings and create a beautiful, functional living space.
1) Painted Wood Paneling
Contrary to popular belief, wood paneling can be modernized and made to look fresh and contemporary.
You can upcycle the wood panels on your wall or even transfer them to your basement ceiling by stripping, painting, and re-staining them.
2) Exposed Ductwork and Pipes
A way to work around what might be considered unattractive aspects of your home is to utilize exposed plumbing and ductwork.
Metal HVAC systems exude an unmistakably industrial aesthetic, evoking images of robust machinery and heavy-duty functionality. In stark contrast, the sleekness of painted pipes introduces a sense of modernity and sophistication to the environment.
3) Asymmetrical Ceiling Height
In some basements, the ceiling height may vary from one area of the room to another. This unique feature can be fully capitalized on by creating an asymmetrical and ultra-dimensional basement ceiling.
4) Decorative Ceiling Tiles
Decorative ceiling tiles can add depth and personality to your basement design. There are many stylish options available, including tiles made from unique materials like copper.
5) Reclaimed Wood Paneling
Adding exposed wood beams to low ceilings can create a warm and rustic farmhouse ambiance in your basement.
To maintain an open and roomy feel, incorporate additional lighting, use white paint, and select decor and furniture pieces wisely.
6) Contrasting Basement Floor and Ceiling Colors
A dark-stained floor paired with a contrasting white ceiling can trick the eye into perceiving the room as taller.
On the other hand, a stark white rug or a beige wood floor will appear spacious when paired with a dark ceiling or basement walls.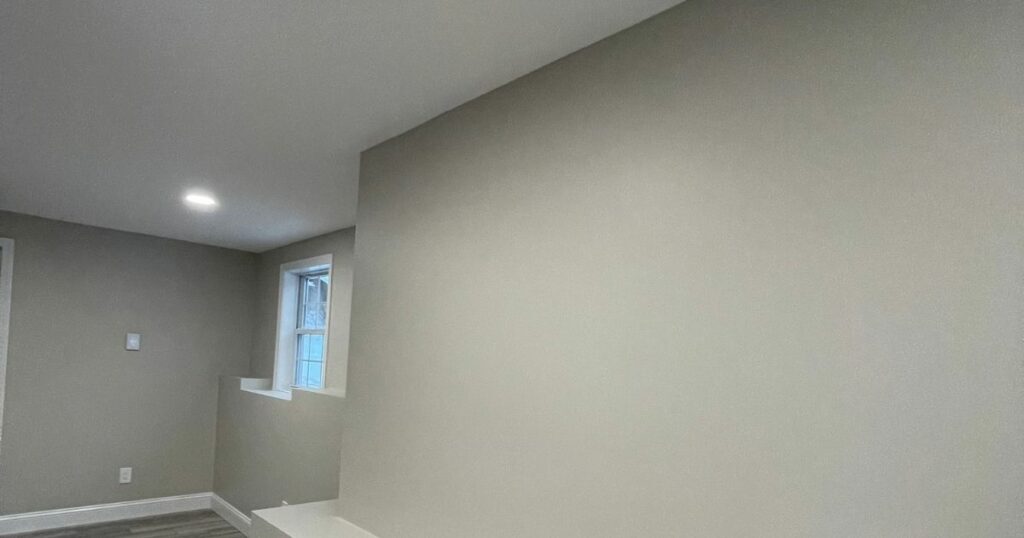 Final Thoughts: Making Your Low Ceiling Basement Dream a Reality
Don't allow a low basement ceiling height to discourage you from achieving your vision for a basement remodel. By employing clever strategies and intelligent design concepts, your compact and unfinished basement can be converted into an ideal space for your entire family to relish.
Contact an Expert
Reach out to our professional remodeling team at Bonsai Builders for a free consultation on your basement remodel.
Discuss a beautiful new basement remodel design that best utilizies your low basement ceiling with Bonsai Builders, a dedicated and innovative home remodeling contractor. With the right design choices and expert guidance, your low ceiling basement can become a luxuriously finished space that exceeds your expectations
Bonsai Builders has completed over 126 projects and with over 26 years experience, they are the trusted basement remodel contractor in Massachusetts.
Conclusion
Remodeling a basement with a low ceiling may seem daunting initially, but with the right approach, it can be a rewarding project.
By understanding the unique challenges and potential solutions, homeowners can transform their basements into beautiful, functional spaces that add value to their homes. Whether you're considering a minor update or a complete overhaul, a basement with low ceiling remodel can provide you with a new living area that's both comfortable and stylish.
So, don't let low ceilings deter you from creating the basement of your dreams. Start planning your basement remodel today, and discover the potential of your underground space.
Contact Bonsai Builders today to start your basement with low ceiling remodel project!