A custom deck remodel is a fantastic way to add value to your property and provide your family with additional outdoor space to enjoy. Decks in Central Massachusetts tend to become worn and damaged over time thanks to the east coast's weather conditions like snow, ice, and heat.
If you've had your deck for a while, it's likely to require some repairs. If you're considering repairing or replacing your deck this spring, a custom deck remodel might be just what you need!
But what exactly is a deck remodel? How does it work? And how much does it cost?
We've got all of these answers in this comprehensive guide on everything you need to know about custom deck remodels in Central Ma!

What Is A Deck Remodel?
A custom deck remodel involves renovating or updating an existing deck by making significant changes to its design, structure, or materials. The purpose of a deck remodel is to improve the deck's functionality, appearance, and overall value.
The remodel can include repairing damaged areas, adding new features such as built-in seating or lighting, changing the deck's layout, or upgrading materials to improve its durability and aesthetic appeal. A deck remodel can be customized to fit the homeowner's preferences and needs while also taking into account factors such as the deck's location, the home's architecture, and the surrounding landscape.

Our custom deck remodels are designed with you in mind, so we'll work with you to create something that fits perfectly into the style of your home and neighborhood. We've provided homeowners with high quality custom deck remodels ranging from small backyard additions, covered patios or screened-in porches all the way up through full multi-level deck remodels.

View our decking process in central Massachusetts here!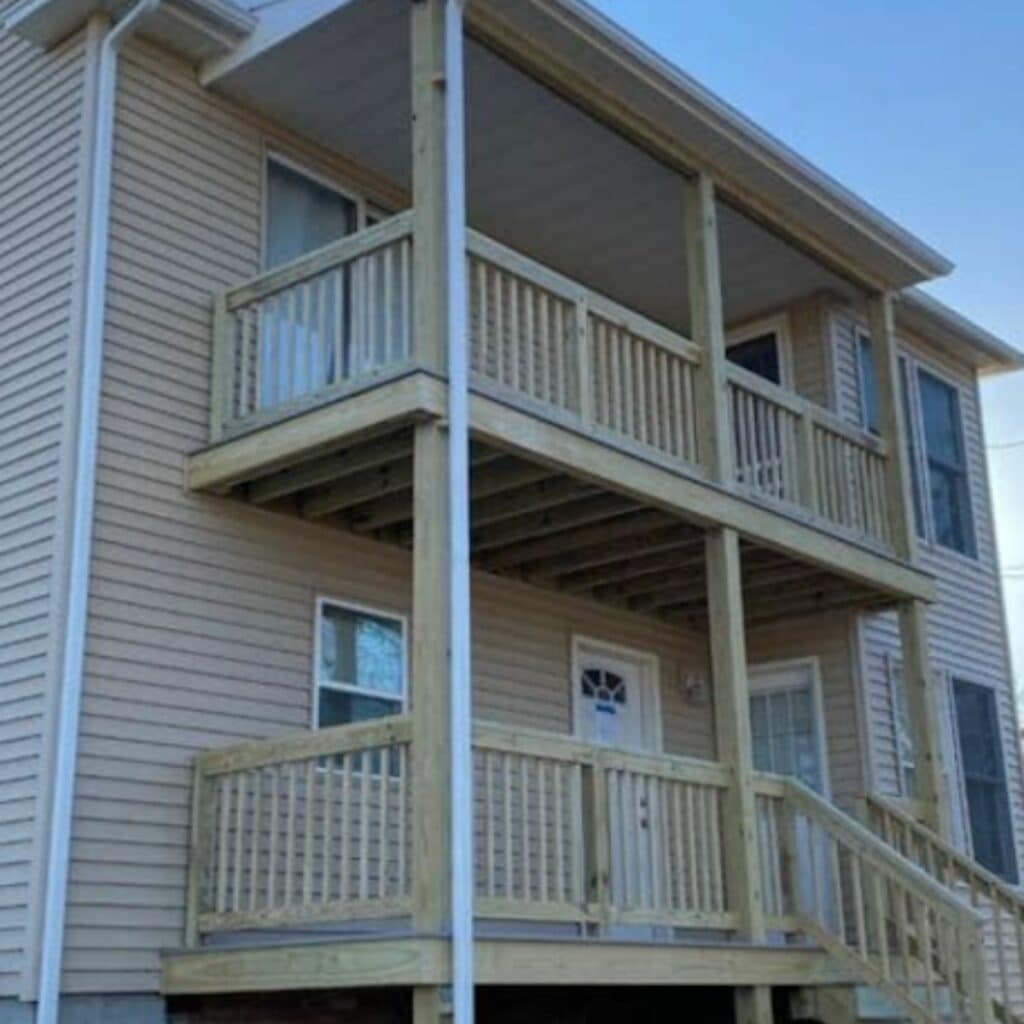 Why Should You Consider A Custom Deck Remodel?
Adding a custom deck can be a great investment for your home offering a variety of benefits.
Here are some reasons why you should consider a custom deck remodel in Central Massachusetts!
Personalization: When you choose a custom deck, you have the ability to design a space that fits your unique needs and style. Whether you want a large space for entertaining guests or a cozy nook for relaxing, a custom deck can be tailored to your specific preferences.
Increased Home Value: A custom deck remodel can increase the value of your home. In fact, according to Remodeling Magazine's 2021 Cost vs. Value report, a wood deck addition can bring a return on investment of over 70%.
Durability: Custom decks are typically made with high-quality materials and built to last. This means that your deck will not only look beautiful, but it will also be durable enough to withstand years of use and the elements.
Curb Appeal: A custom deck can greatly enhance the curb appeal of your home. With a wide range of design options, you can create a deck that complements your home's architecture and adds to its overall aesthetic appeal.
Outdoor Living: A custom deck provides a great opportunity to create an outdoor living space that you can enjoy year-round. Whether you want to enjoy a cup of coffee on a cool morning or host a summer barbeque, a custom deck can provide the perfect space for all your outdoor activities.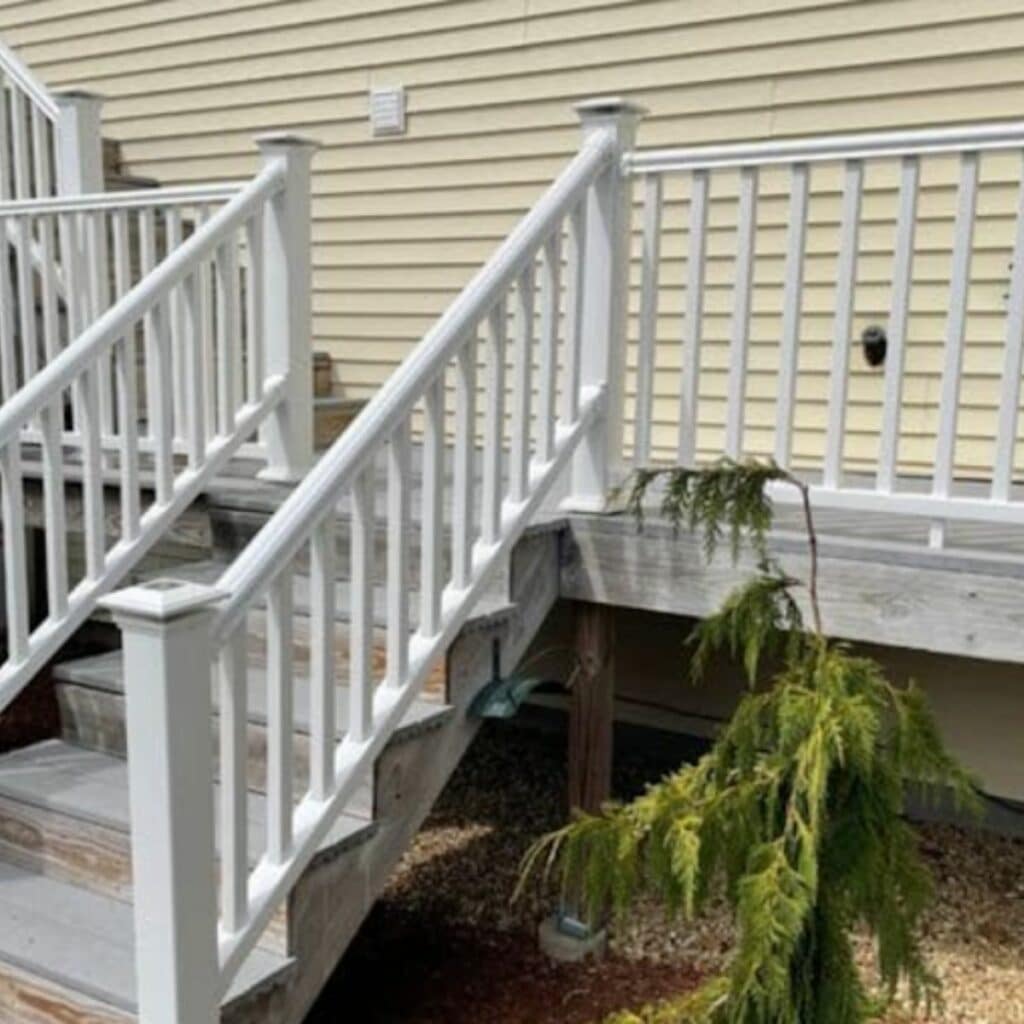 A custom deck remodel can replace your old materials
If you're looking to make your deck more durable and last longer,consider a custom deck remodel that uses some spiffy new materials! You can use recycled wood or composite materials, made from recycled plastic and wood fibers, to spruce things up. These materials are energy efficient, and easy to clean!
There are various materials available for decking, and each one offers a unique set of characteristics and benefits. Here are some popular deck material options:
1. Wood: The traditional and most commonly used decking material is wood. It's available in different types, such as cedar, redwood, pine, and hardwoods like teak and ipe. It's a natural material that is visually appealing, and each type has its own unique color and grain pattern. However, wood requires regular maintenance, such as sealing and staining, to prevent rot, decay, and insect damage.
2. Composite: Composite decking is made from a mixture of wood fibers and plastic, providing a durable, low-maintenance option. It's resistant to rot, decay, and insects, and comes in a range of colors and styles. Composite decking is often made from recycled materials, making it an eco-friendly choice. However, it can be more expensive than wood and may not have the same natural look and feel.
3. PVC: PVC (polyvinyl chloride) decking is a synthetic material that is waterproof and resistant to mold, mildew, and stains. It's low-maintenance and can be cleaned with soap and water. PVC decking is also available in a variety of colors and styles, but it can be more expensive than other materials.
4. Aluminum: Aluminum decking is a lightweight and durable option that is resistant to rust, corrosion, and rot. It's low-maintenance and easy to clean, and can be designed to mimic the look of wood or other materials. However, it can be more expensive than other options and may not be as visually appealing to some people.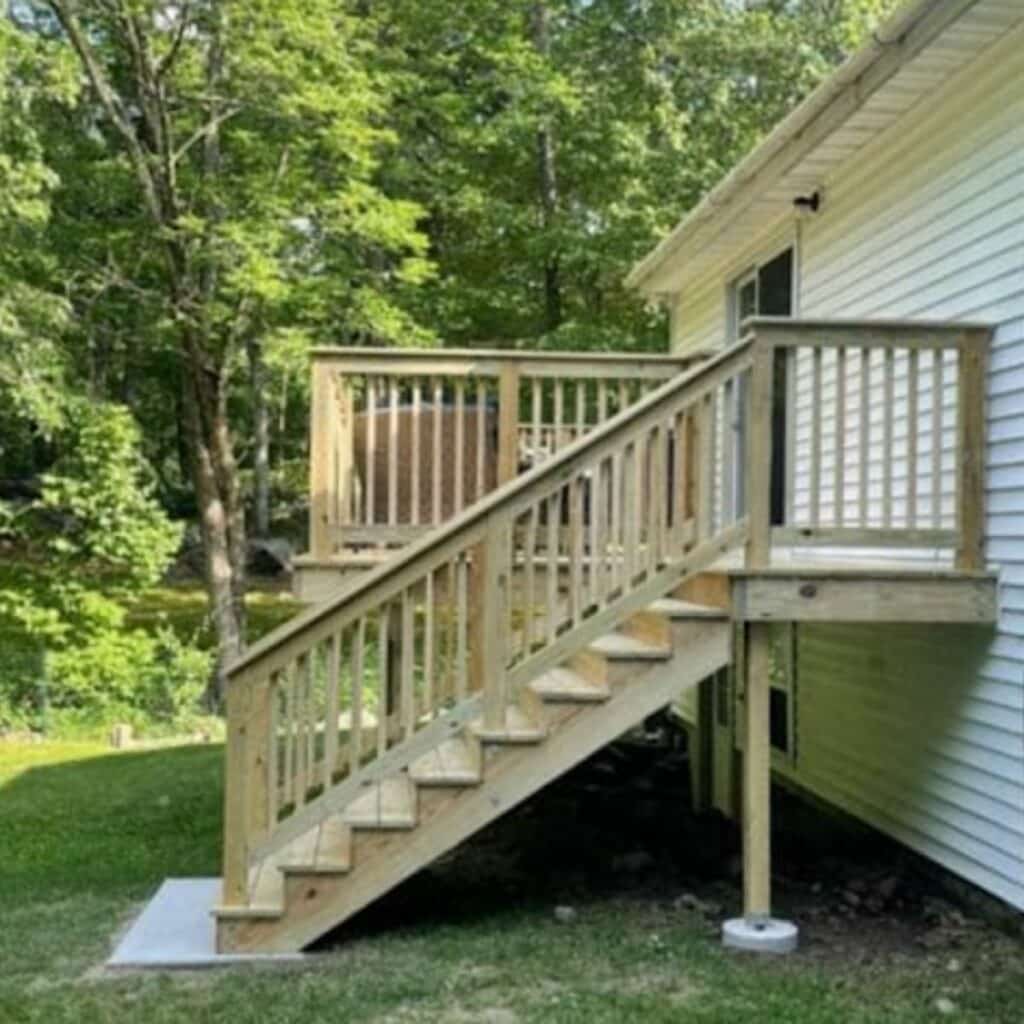 Consider a deck remodel if your deck is leaning, sagging, or rotting!
If your deck or porch is leaning, sagging or rotting, we can help you decide if it's time for a complete rebuild or if a simple repair will do.
If your porch is leaning and it's still structurally sound, we can straighten it up with a new set of posts and beams. This kind of repair is great for people who don't want to tear out their whole deck but who want to get rid of the slant.
If the deck itself is rotted, you might want to consider replacing the entire thing with a custom-built structure designed to match your home style and needs. This kind of project takes longer but can give you exactly what you need.
Cost of a custom deck remodel in Central Massachusetts
If you're interested in a custom deck remodel, of course you're going to want to know how much the average investment is and what to expect. The cost of a custom deck will vary depending on the size, materials, and other factors such as special features (seating or lighting).
Let's go over some of the main factors that will affect the cost of a deck remodel:
Size: Cost will vary depending on the size of your deck. On average, a 200 to 500-square-foot deck can cost between $7,000 to $20,000 for materials and labor.
Materials: The type of materials used for your deck will also affect the cost. Pressure-treated wood is the most cost-effective option, but if you want a more durable and long-lasting material, you may want to consider composite decking or hardwood.
Extra features: If you want to add features such as built-in seating, lighting, or a pergola, expect to pay more. Built-in seating can cost around $300 to $800 per linear foot, while a pergola can cost anywhere from $3,000 to $7,000.
Labor: Labor costs will vary depending on the complexity of the design and the experience of the contractor. On average, labor costs can range from $20 to $50 per square foot.
Overall, the average cost of a custom deck remodeling can range from $7,000 to $50,000 or more. However, it's important to keep in mind that investing in a high-quality custom deck can increase the value of your home and provide many years of enjoyment and relaxation.
Get a custom quote for a custom deck in Central Massachusetts!
Bonsai Builders offers the best of all worlds: high-quality materials, construction, and a stylish design that fits your home's aesthetic. Our custom decks are constructed with the finest materials and built with the most advanced techniques. The result is a durable surface that will keep looking great for years!
You want your deck to fit seamlessly into your home's style. We take special care when designing —from the color of your posts to the material we use for railings—to ensure that your new deck will compliment your home's existing décor.
Are you interested in discussing a custom deck? We're just a call away! We can't wait to talk to you and hear about your project.
Send us a message using the form below, or call us at (774) 764-8885. We'll reply within 24 hours.