Custom Home Builders in Wellesley
As the best custom home builders in Wellesley, Bonsai Builders offers modern, luxurious homes tailored to your lifestyle. Discover our craftsmanship today!
Custom Houses in Wellesley
At Bonsai Builders, we pride ourselves on being the custom home builders who use our extensive experience, expertise, authoritativeness, and trustworthiness to create unique homes tailored to our clients' individual needs and preferences. We leverage over 26 years of contractor experience, during which we have completed more than 125 building and remodeling projects. These range from simple home renovations, to complex custom home constructions, all carried out with meticulous attention to detail and a commitment to quality.
Our position as leaders in the construction industry means that we stay up-to-date with the latest building practices and materials. We understand that custom homes are more than just structures; they are personal spaces that reflect the tastes, lifestyles, and values of the people who live in them. That's why we go above and beyond to ensure that every custom home construction is a perfect fit for its occupants.
The trustworthiness of Bonsai Builders is evidenced by the numerous five-star reviews we have received. We have also been distinguished as a Best of Houzz contractor, reinforcing our company reputation for exceptional workmanship and customer service.
Our comprehensive custom home building services include design consultation, project planning, construction management, interior and exterior finishing, and post-construction support. Regardless of the project's size or complexity, we are dedicated to delivering homes that exceed expectations in terms of both aesthetics and functionality. Our team works closely with clients at every stage of the process to ensure their vision is brought to life exactly as they envisaged it. Trust Bonsai Builders to create a custom home that you will love for years to come.
Have you been searching for a custom home builder who will create your dream home? Get in touch now for a free estimate. See why we've been voted among the best custom home builders in Wellesley.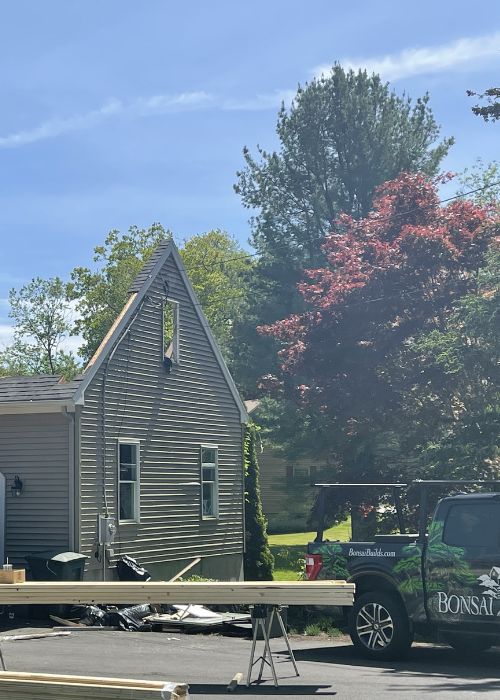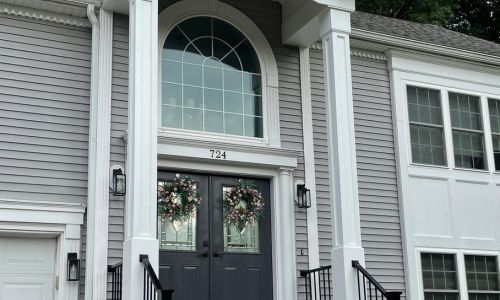 Luxury Home Builder
Experience unparalleled elegance with Bonsai Builders, your trusted luxury home builder in Wellesley. We combine world-class design and construction practices to craft phenomenal residences that elevate your lifestyle. As a distinguished Luxury Home Builder, we masterfully create spaces that embody elegance, sophistication, and unrivaled comfort. Each structure is a testament to our commitment towards excellence, designed to astound and delight. Trust Bonsai Builders to turn your dream home into a tangible luxury. Choose us, for a home that's more than just a dwelling – it's a statement.
Custom Home Designer
Discover the magic of a home built just for you with Bonsai Builders, the premier custom home designer in Wellesley. Our modern, beautiful, and functional designs are meticulously crafted to reflect your unique style and needs. As your trusted custom home designer, we work closely with you to bring your vision to life, creating a space that you'll truly love. Experience the joy of a home that's more than a residence—it's a reflection of you. Trust Bonsai Builders to keep you involved throughout the entire process of our design services. We also ensure we build energy efficient homes to provide value for years to come.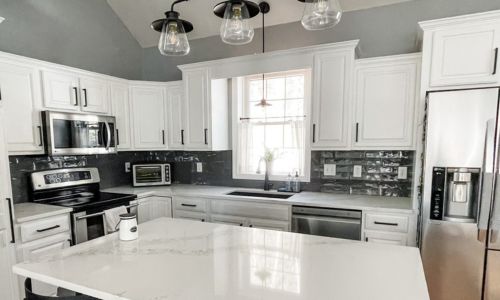 Dream Homes Build
Discover the magic of a personalized living space with Bonsai Builders' dream homes build. As experts in crafting custom home projects, we take pride in transforming Wellesley residences into stunning custom-built sanctuaries. With a keen eye for detail and a passion for perfection, our new construction designs exceed expectations, providing you with a haven that's uniquely yours. Trust Bonsai Builders to make your dream home a reality. Experience the joy of living in a home that's more than a dwelling—it's a reflection of you.
Our Comprehensive Custom Built Homes Process
The first step in the custom home-building process with Bonsai Builders is the initial consultation. This involves meeting with our team to discuss your specific needs, wants, and desires for your new custom home. This is also when we discuss your budget and timeline.
After the initial consultation, we move onto the design and planning stage of new construction. Our architects, project managers and designers will work closely with you to create a unique design that suits your lifestyle and preferences. We'll also create a detailed plan outlining every aspect of the build.
Once the architectural design, and plan have been finalized, Bonsai Builders will handle all necessary approvals and permits. We work closely with local authorities to ensure the process is smooth and efficient, allowing construction to begin as soon as possible.
4. Master Craftsmanship & Construction Services
With all approvals and permits in hand, the construction phase begins. Our team of skilled builders and craftsmen will bring your custom home to life, adhering to the highest standards of quality and workmanship. Regular updates and site visits will keep you involved and informed throughout the process.
5. Handover & Aftercare of Your Custom Home
The final step is the handover of your new custom home. We conduct a thorough walkthrough with you to ensure everything is to your satisfaction. But our relationship doesn't end there. Bonsai Builders offers comprehensive aftercare services, including maintenance and warranty support as well as interior design support, to ensure your new home remains in perfect condition for years to come.
What Our Wellesley Clients Say

"Bonsai is the best!"
Bonsai is the best, we have used them for multiple projects and every time they have gone above and beyond! Absolutely would recommend!

"Professional, detail oriented, and high quality contractor"
If you are looking for a professional, detailed oriented, and high-quality contractor, look no further; Bonsai Builders is your answer. We highly recommend Bonsai Builders to anyone who expects high quality work from a builder. In fact, we are certain to contract Bonsai again for future projects.

"They cared about the end result"
We found Bonsai Builders while searching for contractors in the area, and despite not being familiar with them, we met to discuss what we were looking to do and left with a good feeling that we were on the same page and that they listened to what we wanted. They cared about the end result and we will absolutely use them again for future projects.
Wellesley Custom Home Builder Contractor FAQ
Q. How much does it cost per square foot to build a house in Wellesley?
A. The cost to build a house in Wellesley varies significantly, typically ranging from $250 to $500 per square foot. The cost largely depends on factors such as location, materials, and customizations. For a more precise estimate, it's recommended to consult with a professional home builder like Bonsai Builders, who can provide a detailed cost breakdown based on your specific needs and preferences.
Q. Are custom builds cheaper?
A. Custom builds are not necessarily cheaper than purchasing a pre-existing home. Customization allows for personalized design and specificity, which often comes with a higher price tag. Costs can vary based on factors like materials, labor, and the complexity of the design. However, the value of having a home tailored to your exact needs and preferences can be worth the extra cost for many individuals. It's important to evaluate your budget, needs, and long-term plans before deciding between a custom build and a pre-existing home.
Q. How can I save money on a custom built house?

A. To save money on a custom-built house, consider planning carefully to avoid costly changes later, choosing simple designs to reduce labor costs, and sourcing materials in advance to take advantage of sales or discounts. Opt for energy-efficient features to save on long-term utility bills. Lastly, hiring an experienced contractor can help avoid costly mistakes and ensure the job is done right the first time. It's essential to balance cost-saving with quality to ensure your home is durable, comfortable, and a good investment.
Q. Can I design a house without an architect?
A. Yes, you can design a house without an architect. However, it's important to note that designing a house requires a broad understanding of structural integrity, building regulations, and aesthetic principles. While there are software and online tools that can assist with the design concept building process, they may not capture all the technicalities involved. For complex projects or houses with unique features, it's often advisable to hire a professional architect to ensure a safe, compliant, and aesthetically pleasing design.
Q. What not to skimp on when building a house?
A. When building a house, never skimp on the foundation, structural integrity, and quality of materials – these aspects directly influence the house's durability. Equally important are energy-efficient features like insulation and HVAC systems, as they significantly impact long-term costs. Lastly, investing in experienced professionals like architects and contractors is crucial. They ensure that your home is not only aesthetically pleasing but also safe, functional, and built according to regulations.
Q. How do I find a local builder?
A. To find a local builder, you can use Google, social media, check local business listings, or ask for recommendations from friends, family, or real estate agents. Additionally, ensure to check their reviews, previous work, and credentials to ensure they're reliable and can meet your specific needs. Contact us to see why we provide the best in luxury homes in Wellesley.
Ready to bring your luxury house build to life?
Let's get started!