Modern Bathroom Tile Ideas
If you're remodeling your bathroom, you've probably thought about various bathroom tile ideas.
Bathroom tiles are not merely a practical necessity; they are a key element of modern interior tile design for a bathroom remodel. With their diverse colors, shapes, and patterns, tiles allow you to infuse your bathroom with character and creativity.
From creating a serene spa-like retreat to making a bold and artistic statement, the wall and floor tile can redefine the entire space of your bathroom.
In this blog post, we'll explore a variety of modern bathroom tile ideas that embrace the latest trends and innovations to help elevate the bathroom space.
We'll dive into the various tile materials and finishes, and understand how each contributes to your bathroom's functionality and visual appeal.
Table of Contents
1. What is the Best Tile Design for a Bathroom?
When it comes to selecting the perfect bathroom tiles, there are several factors to consider, ranging from durability and style to maintenance and safety.
Factors to consider when choosing the bathroom floor and wall tile:
Water Resistance Bathroom Tile: Bathrooms are exposed to moisture and humidity, making water resistance a crucial factor. Choose wall and floor tiles that are impervious to water, preventing water damage and mold growth.
Slip Resistance Bathroom Tile: Safety is paramount in a bathroom, especially when the bathroom floor is wet. Look for a tile with slip-resistant surfaces to minimize the risk of accidents.
Style and Aesthetics: Choose a tile that aligns with your preferred style to complement the overall color scheme of your bathroom. Having a unique bathroom tile design can enhance the ambiance and make a visual statement.
Durability: The bathroom floor is a high-traffic area, so opt for tiles that can withstand daily wear and tear. A durable tile will maintain their beauty and integrity even with regular use.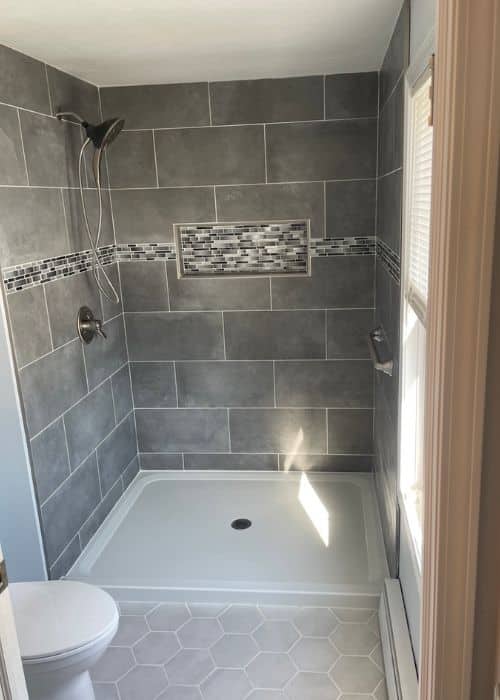 2. Recommended Tile Materials for Bathrooms
Porcelain tiles for the bathroom are popular due to their exceptional durability and versatility. They are dense and non-porous, making them highly resistant to water and stains.
Porcelain tiles come in a wide array of styles, mimicking the look of natural stone, wood, and various other materials. Their versatility allows for seamless integration into modern, traditional, or contemporary bathroom tile designs.
A porcelain tile can be costly, however they are low maintenance and water-resistant. These tiles also have a low water absorption rate, which makes them ideal for bathroom tiles.
Ceramic tiles are another excellent option for bathroom floors and walls.
They are budget-friendly and available in an extensive range of colors, patterns, and sizes. While not as dense as a porcelain tile, a ceramic tile still offers good water resistance and are easy to maintain.
Ceramic tile is a beautiful material that can be used to achieve a stylish and trendy bathroom without breaking the bank.
However, a ceramic tile is not as ideal as porcelain tile. While these tiles can remain more cool than porcelain tile, this is not the case in cool temperatures.
For those seeking a touch of luxury and timeless elegance, natural stone tiles are an ideal choice for bathrooms.
Materials like marble, travertine, and slate can elevate your bathroom's tile aesthetics with their unique veining and textures. However, stone requires regular sealing and maintenance to preserve its beauty.
Marbles tiles can come in a variety of finishes.
For example, polished marble tiles can have a glossy surface. Glossy tiles are slippery, so this may not be the most suitable for bathroom floor safety precautions.
However, these tiles are bright and reflective which makes their aesthetics so pleasing.
A matte tile will be less reflective in comparison to the other tile materials; however, they contain an anti-skid property that makes them safe for the bathroom flooring.
Glass tiles add a touch of sophistication and modernity to your bathroom.
They come in various colors and finishes, reflecting light and creating a luminous and sleek appearance.
Glass tiles for the bathroom are an excellent choice for accent walls, backsplashes, and shower enclosures, as they add a captivating depth to the room elevating the space of the area.
3. Modern Bathroom Tile Ideas – Shapes and Patterns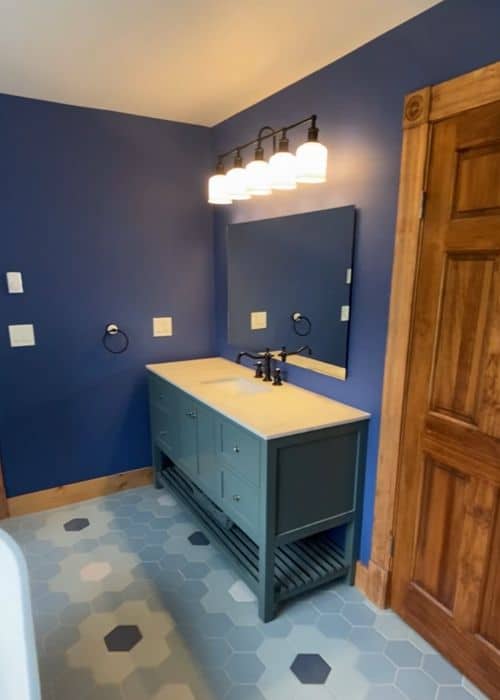 In modern interior tile design, the world of tiles has evolved beyond the traditional square and rectangular options.
Today, an exciting array of shapes and patterns offers endless possibilities to transform your bathroom into a captivating space by using creative bathroom tile ideas for your walls, showers, and floor tiles.
Let's explore some of the most popular modern tile ideas that can elevate the aesthetics of your entire space:
A. Subway Tiles: Classic Tile Design with a Modern Twist
Subway tiles have stood the test of time as a classic choice, harkening back to the early 20th century when they adorned the walls of subway stations.
However, their simple and elegant design has found a new resurgence in modern tile design. While the classic white subway tiles remain a popular option; modern variations include a wide range of colors, finishes, and sizes.
In 2023, we will most likely continue to see the trend of contrasting tile colors within the shower walls.
This appearance can be achieved by using contrasting white and black tiles or even contrasting the grout with the tile color.
B. Geometric Tiles: Adding Depth and Dimension
Geometric tiles are a fantastic way to infuse your bathroom tile design with depth and dimension.
From diamonds and triangles to quatrefoils and polygons, the interplay of shapes creates a visually captivating and dynamic backdrop for your bathroom.
C. Hexagon Tiles: Chic and Contemporary Charm
Hexagon tiles have become a hallmark of modern interior tile design, known for their ability to add a chic and contemporary charm to any small space.
Their six-sided shape creates a honeycomb effect that instantly draws attention.
D. Herringbone and Chevron Patterns: Dynamic and Eye-Catching
Herringbone and chevron bathroom tile patterns are two visually stunning options that exude a sense of movement and sophistication.
These unique patterns involve laying tiles at an angle to create a dynamic and eye-catching look since it pairs beautifully with the shower and vanity.
From the timeless appeal of a subway tile with a twist to the captivating geometry of hexagons and chevrons, your choices can shape a space that seamlessly blends contemporary charm with your personal style.
Don't be afraid to explore combinations and experiment with layouts to create a modern bathroom design that is uniquely yours.
4. Modern Bathroom Tile Trends and Innovations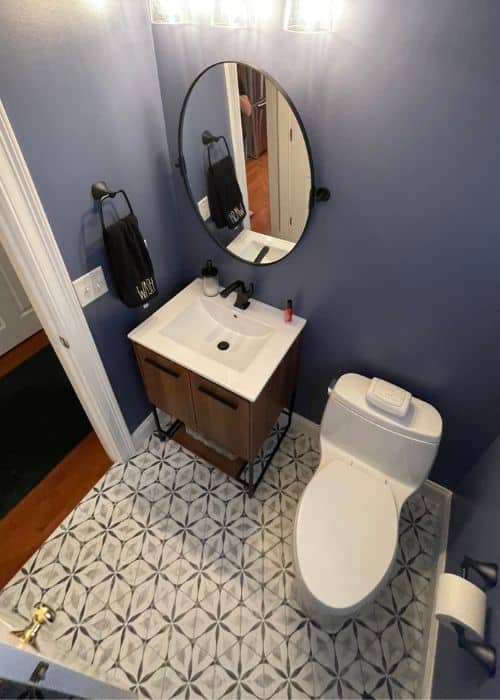 Modern bathroom tile trends are constantly evolving, offering exciting innovations that can transform your bathroom into a stylish haven.
From large-format tiles to metallic and iridescent surfaces, and the artistic allure of terrazzo, let's explore some of the most captivating tile design trends that are making waves:
A. Large-Format Modern Tiles: Seamless and Spacious Appearance
Large-format tiles have gained immense popularity in modern bathrooms for their ability to create a sense of spaciousness and elegance.
These tiles are typically available in sizes of 12×24 inches or larger, allowing for a seamless and uninterrupted appearance that makes a small bathroom space appear more expansive just by the bathrooms floor tile.
With fewer grout lines, large-format tiles create a visually unbroken surface, making your bathroom feel more open and airy. This trend also extends to wall tiles, contributing to a sleek and contemporary look.
B. Metallic and Iridescent Modern Tiles: Shimmer and Shine
For those who seek a touch of glamor and modernity, metallic and iridescent tiles offer a dazzling solution.
These tiles reflect natural light and create a mesmerizing shimmer, adding a touch of luxury to your bathroom to achieve a spa like feel.
Incorporate metallic or iridescent tiles as accent pieces or in a small bathroom space, such as the shower walls or a vanity backsplash.
The glimmering effect adds a sense of opulence and allure to the overall tile design.
C. Terrazzo Modern Tiles: Artistic and Trendy Surfaces
Terrazzo tiles have made a triumphant comeback in contemporary interior tile design.
These tiles feature a mix of marble, granite, quartz, or glass chips set in a cement or resin base, resulting in a unique and artistic surface that adds character to your bathroom design.
Terrazzo tiles come in a wide range of colors and chip sizes, offering endless possibilities for creating one-of-a-kind tile designs.
Whether you prefer a bathroom color scheme that is subtle, neutral or even vibrant, terrazzo tiles infuse your bathroom with a stylish and artistic flair.
5. The Versatility of Modern Bathroom Tile Design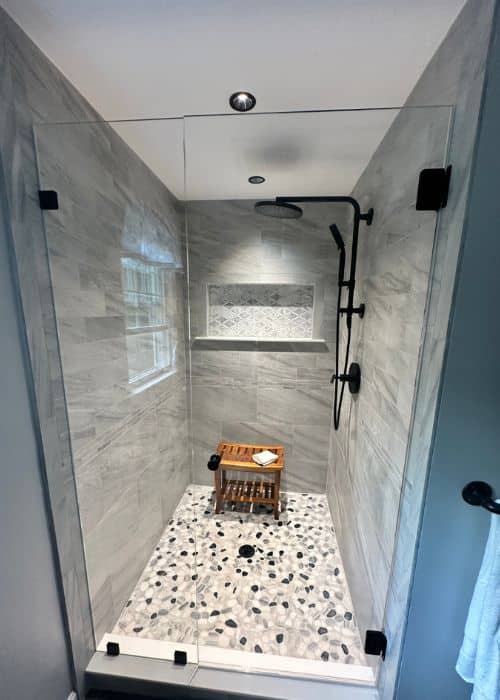 The beauty of modern tile trends lies in their versatility, allowing you to tailor your bathroom design to suit your personal taste and style preferences.
Whether you opt for the seamless elegance of large-format tiles, the glamorous shimmer of metallic and iridescent surfaces, or the artistic expression of terrazzo tiles.
These trends can be incorporated into various elements of your bathroom design, from the bathroom floor tile and wall to the back wall and shower tile.
As you explore modern tile trends and innovations, consider how they align with your overall bathroom ideas and how they can impact the elevation of the space within the bathroom.
Embrace these contemporary options to plan your bathroom renovation project that not only reflects your personality but also stays ahead of the curve in the ever-evolving world of interior tile design.
Modern Tile Trends
Learning some of the 2023 tile trends can help you envision a new transformation to your bathroom aesthetic.
The tile material is not the only aspect to consider when completing a bathroom renovation. The layout, size, color, and patterned tile ideas are also important aspects to consider.
Focusing on 2023 bathroom tile trends can help you create a more narrow focus on which selections to choose from.
Checkerboard
The checkerboard tile trend for bathrooms have been a popular choice for creating a class, retro, or vintage appearance.
Checkerboard tiles typically feature a pattern of alternating black and white or contrasting colored squares, reminiscent of a chess or checkers board.
This tile pattern can be interchangeable between the floor and wall tiles.
Textured Tiles
No matter which tile you choose, there will always be some level of texture being introduced to the depth of the bathroom space.
From rustic, subtly textured options to striking 3D patterns with raised details, grooves, and intricate shapes.
These tile designs can create a visually captivating impression of depth within the space of a room.
Artistic Statements
Whether it's covering an entire floor, a whole wall, or just a tiled backsplash, adding a tile pattern can build character and individuality.
Tiles have been our go-to for centuries when it comes to adding additional color, pattern, and texture to our home features, and it appears that we have grown more adventurous with our decisions.
Tiles are your canvas and your opportunity to create bold design statements within your home.
Elevate Your Bathroom with Bonsai Builders
Contemplating how to style the tiles to your walk in shower walls and floors? Or maybe, you are wondering how to style the accent tiles above your sink?
Creating a truly beautiful and contemporary modern bathroom design requires a careful blend of design elements that reflect your personal style and embrace the latest trends.
Now, imagine taking your bathroom remodel a step further by partnering with Bonsai Builders, a team of skilled contractors passionate about creating the best bathroom tile ideas personalized to your home features and desired vision.
Working with Bonsai Builders can bring your bathroom ideas to life, combining expert craftsmanship and an eye for detail to create new bathroom ideas that are both functional and visually stunning, even if you are planning a full renovation to match a new vanity or envisioning a powder room with a jewel box effect.
Bonsai Builders will have your best interest at heart!