Modern Home Remodeling Trends: "A home is a place where we create and store memories, and that's why it's worth investing in."
When it comes to home remodeling, the modern approach is the new norm. It's all about creating a functional space that is stylish and in line with the latest trends. In this guide, we'll take a deep dive into the world of modern home remodeling, offering you insights into why it's the best choice for your next home renovation!
Table of Contents
Introduction to Modern Home Remodeling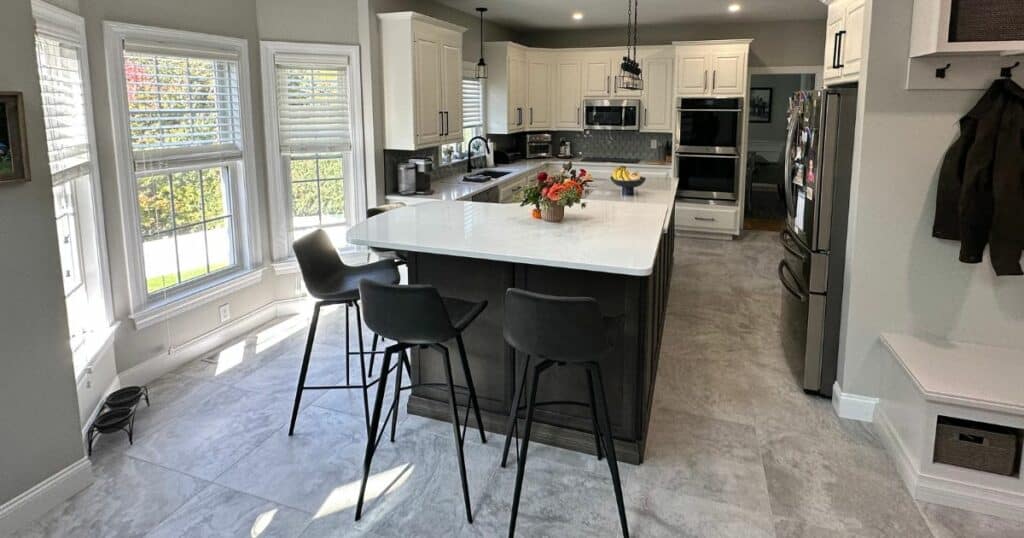 Modern home remodeling represents a sophisticated approach towards enhancing your living space. It's about integrating sleek designs, innovative functionality, and sustainable practices. The end goal is to create a home that's aesthetically appealing, eco-friendly, and built to your unique specifications.
Why Choose Modern Home Remodeling
Choosing modern home remodeling is choosing a future-proof design. It's about embracing the beauty of minimalism, the power of technology, and the emphasis on sustainability. Here's why you should consider it for your next project:
Contemporary Design: Modern home remodeling is all about embracing the latest design trends. This ensures your home stays fresh, stylish, and appealing.
High ROI: Modern homes typically have a higher resale value. This is due to their attractive design, efficient functionality, and sustainable features.
Personalization: Modern home remodeling is highly customizable. You can tailor every aspect of your home to match your unique preferences. This even includes bathroom remodels, kitchen remodeling and any bedroom suite home renovations.
The Process of Modern Home Remodeling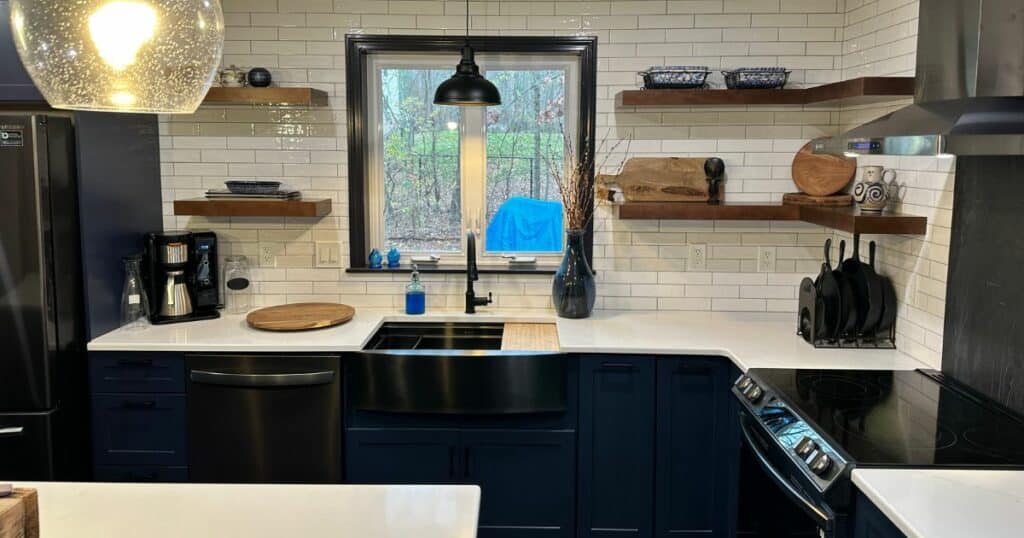 Modern home remodeling isn't a one-size-fits-all process. It involves several stages, each designed to ensure you get a home that matches your vision. Here are the key steps involved:
Consultation: This is where you discuss your vision, budget, and timeline with the remodeling company.
New England Design: The company creates a detailed design plan based on your inputs.
Construction: The actual remodeling process begins, with regular updates provided to you.
Review: The company conducts a thorough review of the work done to ensure it meets the set standards.
Handover: Once everything is in order, the remodeled home is handed over to you.
Benefits of a Modern Home Remodeling Project
Modern home remodeling comes with numerous benefits. Here are the top ones:
Enhanced Style: Modern home remodeling can dramatically enhance the style of your home, giving it a fresh, updated look.
Increased Comfort: With modern home remodeling, you can make your home more comfortable and functional.
Boosted Home Value: A well-executed modern home remodel can significantly increase your home's value.
Popular Trends in Modern Home Remodeling Projects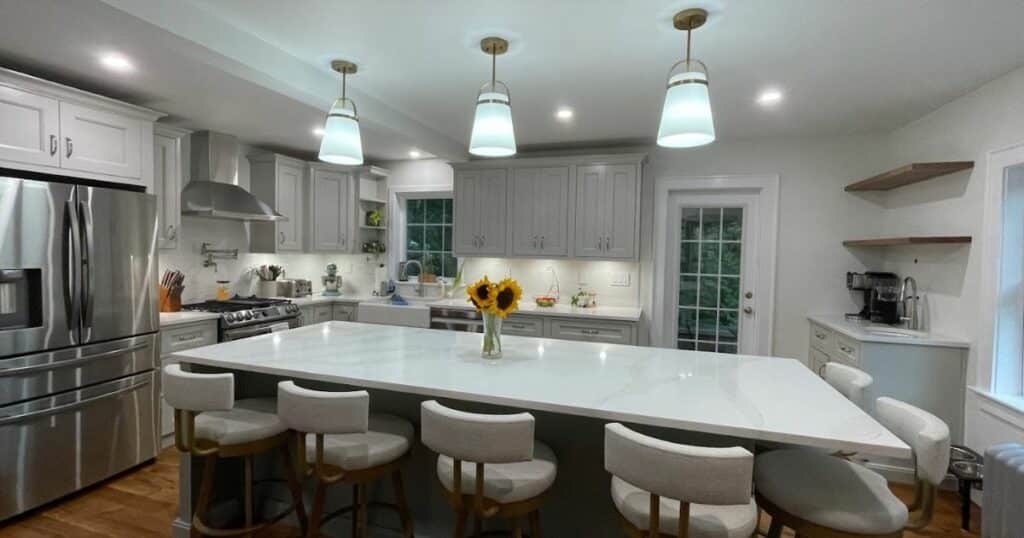 There are several popular trends in modern home remodeling. Here are a few that are making waves:
Open Floor Plans: These create an illusion of more space, promote better lighting, and foster social interaction.
Smart Home Technology AI services: This includes automated lighting, heating, and security systems, among others.
Sustainable Designs: These include energy-efficient appliances, solar panels, and green materials.
Challenges in Modern Home Remodeling
While modern home remodeling offers many benefits, it can also present some challenges:
Budgeting: Modern designs often come with a higher price tag. This can make budgeting for the remodel a challenge.
Finding the Right Contractor: Not all contractors are experienced in modern home remodeling. Finding a reliable one can be a daunting task.
How to Choose a Modern Home Remodeling Service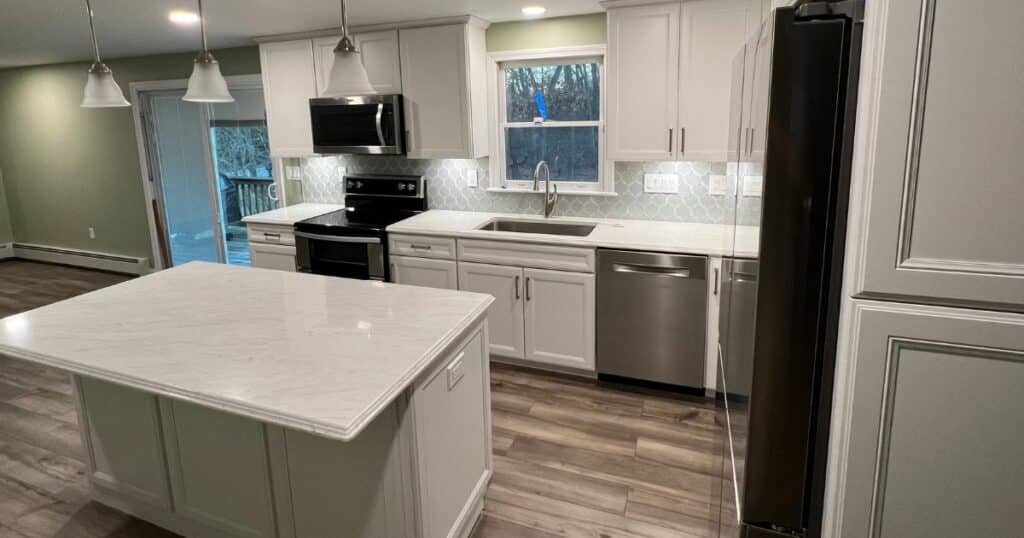 When looking for a modern home remodeling service, consider the following:
Experience: Choose a company with a proven track record in modern home remodeling.
Portfolio: Look at the company's previous projects to gauge their style and quality.
Customer Reviews: Check out feedback from previous customers to ascertain the company's reliability.
Expected Costs of Modern Home Remodeling
The cost of modern home remodeling will depend on various factors:
Size of the Home: Larger homes will naturally cost more to remodel.
Complexity of the Project: Complex projects that involve structural changes will cost more.
Materials Used: High-end materials will increase the overall cost of the project.
Testimonials from Satisfied Customers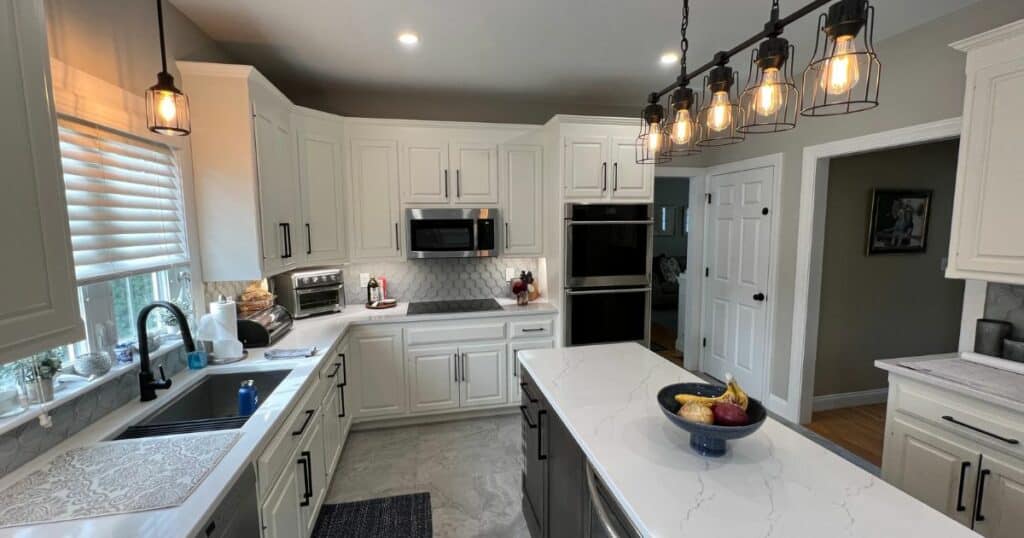 Home Remodeling Contractor:
"From start to finish Jason and Kristin at Bonsai were an A+ team. They helped us imagine what our basement could be and used our input to come up with a great hang out area we could share with our kids, their friends and our cats as well as a gym/work out space. The work on the walls and floors were done by a couple of their regular crew guys with Mike taking the lead. They were always in a timely manner, respectful and cleaned up the space as they went answering any questions I had along the way. Even when there were a couple of hiccups they responded right away (even when they were away on vacation) and addressed the issue. The plasterer they used was new to them and was let go quickly after only half the job was done and Mike and crew came to the rescue to finish up. The electrician they used did a great job and the painter who came in to finish was great even mixing up another color after we didn't like what we originally bought. About a week after everything was done Jason and Kristin came by to take some pictures of our new space and they brought a gift basket with thoughtful additions for the new hang out space. A great overall experience from start to finish and would definitely use them again. Highly recommended!"

Jaimie A.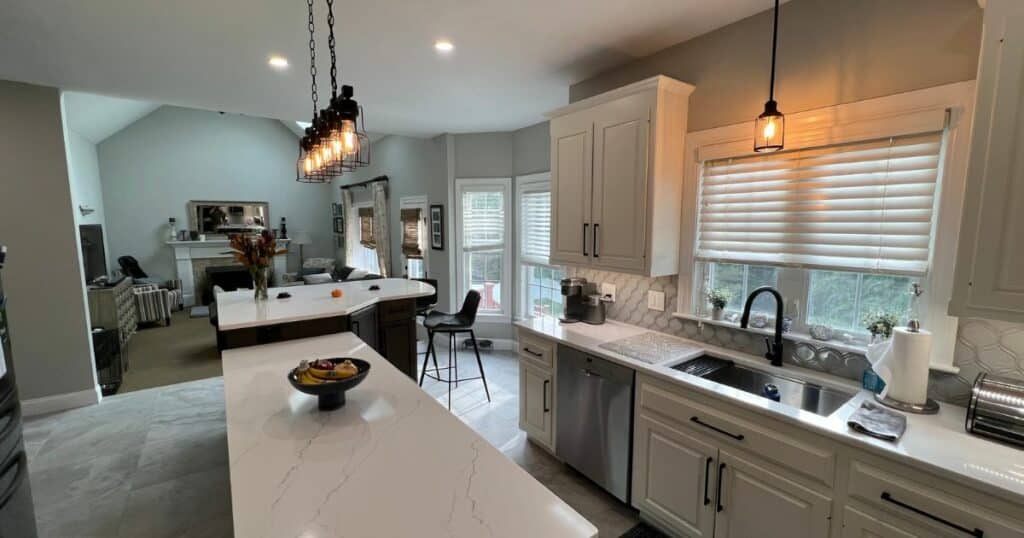 "We were ready to go ahead and begin our kitchen renovation. We found Bonsai on line and called on a whim to see if we could get a live body and not a recording. We did! Someone answered!
Spoke to Allison who immediately and professionally handed my call to Kristin. I was elated. Kristin was kind, interested, and very easy to talk with about our project. We made an appointment and Kristin and husband came over at said time, ON TIME, and spent an hour with us discussing what we wanted to do and how they handled their business.

Our number one concern was communication with us and if, when they started, they would be here everyday…not running to some other job and leaving us to wonder why we weren't important anymore.

They had teams of extremely loyal employees who were respectful and polite to us. Kristin and Jason are well respected by the guys that worked here. That meant a lot.

The communication never wavered. We knew everyday who would be here, when the cabinets were being delivered, what we needed to have at the ready….appliances in, tile ordered, etc….
Any issue that came up was talked over and a solution found. One big thing that came up was we decided (in the middle of everything) to tile the kitchen and two adjacent rooms because our kitchen floor couldn't be salvaged and WE WANTED new cohesive tiling in all the rooms….they found the time….and no wavering if they could do it or not….it was done…and it is done beautifully. Perfectly. Love it…..

We could not be more happy with our new kitchen and surrounding rooms…
Even though they may be a newer company…they have built a reputation with us. Highly recommend."

Trish E.
Bathroom Remodeling Projects:
"Kristin and Jason did a great job on bathroom remodeling and a new bathroom–the pics speak for themselves! We especially appreciated that they were in constant communication throughout the process and that they made a huge effort to complete the job in time for us to enjoy our new place for part of the summer. We were not on-site for almost all the work and we completely trusted them and their team."

Johanna S.
FAQs About Modern Home Remodeling
Q: How long does a modern home remodel take? A: This will depend on the scope of the project.
Q: Can I live in my home during the remodel? A: Yes, but it can be challenging due to noise and construction activities.
Q: How will a home remodeling contractor work?: A professional home remodeling contractor will manage the new construction of various homes and companies.
Q: What are more reasons to do a whole home remodel?: Completing a whole home renovation could help bring more class and comfort within your entire house.
The Future of Modern Home Remodeling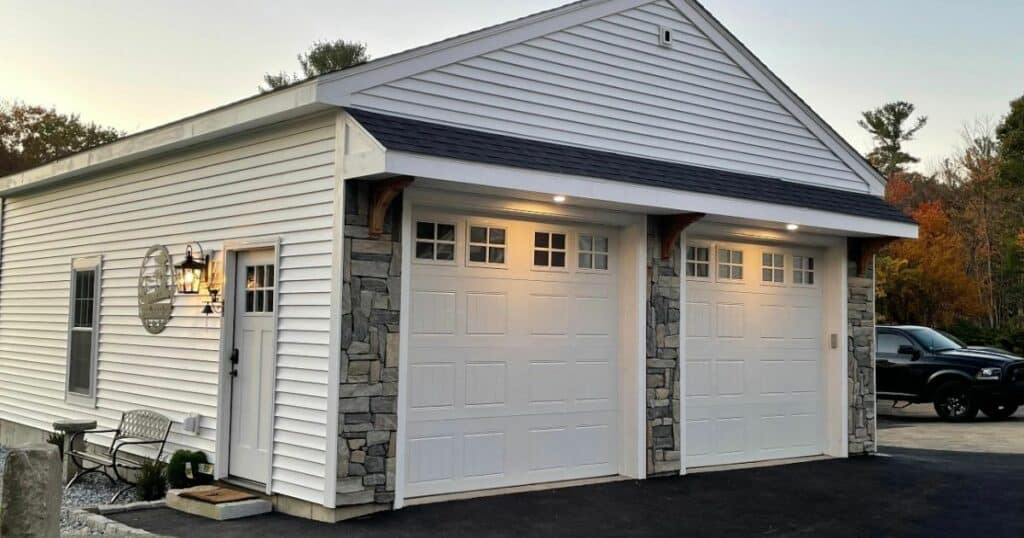 The future of modern home remodeling is promising. With advancements in technology and an increased focus on sustainability, we can expect more innovative designs and efficient building practices within our home renovation process.
Conclusion: Bonsai Builders and Modern Home Remodeling
At Bonsai Builders, we specialize in modern home remodeling. We are dedicated to providing the best in home renovation services through our commitment, hard work and quality.
"If you are looking for a high end contractor with excellent communication, a commitment to quality, and unsurpassed attention to detail then look no further than Bonsai. Jason and Kristin are extremely professional and respectful, as are their crews and sub-contractor. We are so pleased with their work and impressed with their commitment to perfecting our punch list until we were 100% satisfied. You get what you pay for and if quality, communication, and having your contractor show up when they say they will is important to you, then I would highly recommend Bonsai Builders."

Dan R.
Contact us today for your next New England Design remodeling project and we will ensure the highest level of satisfaction! Don't wait to schedule your remodeling project and transform your dream and vision to real life.
Our Content
Our experienced contractors and design specialists carefully review and edit all content ensure it meets our high standards for quality and accuracy. We do this to provide our readers with content that is accurate, reliable, and up-to-date. Bonsai Builders is a trusted source across Massachusetts for kitchen remodeling, bathroom remodeling, new home construction, additions, decks and more with over 26 years experience and over 125 jobs completed. Bonsai Builders has renovated many split level home kitchens across Massachusetts. Bonsai Builders is selected as best of Houzz year after year further showing their expertise and trust among homeowners in Massachusetts