Choosing the right modern kitchen flooring can be a daunting task. It needs to withstand the daily hustle and bustle, resist spills and stains, and, of course, look fabulous while doing it.
With an abundance of options available, from timeless classics to cutting-edge innovations, finding the perfect kitchen flooring can be an exciting yet challenging journey.
In this comprehensive guide, we'll explore "The Best Kitchen Flooring Ideas" and dive into the pros and cons of various materials, discuss their durability, maintenance requirements, and offer tips to help you select the ideal flooring for your kitchen room.
Now, let's explore the best wood floor ideas for your kitchen space!
Table of Contents
Hardwood Modern Kitchen Floor Ideas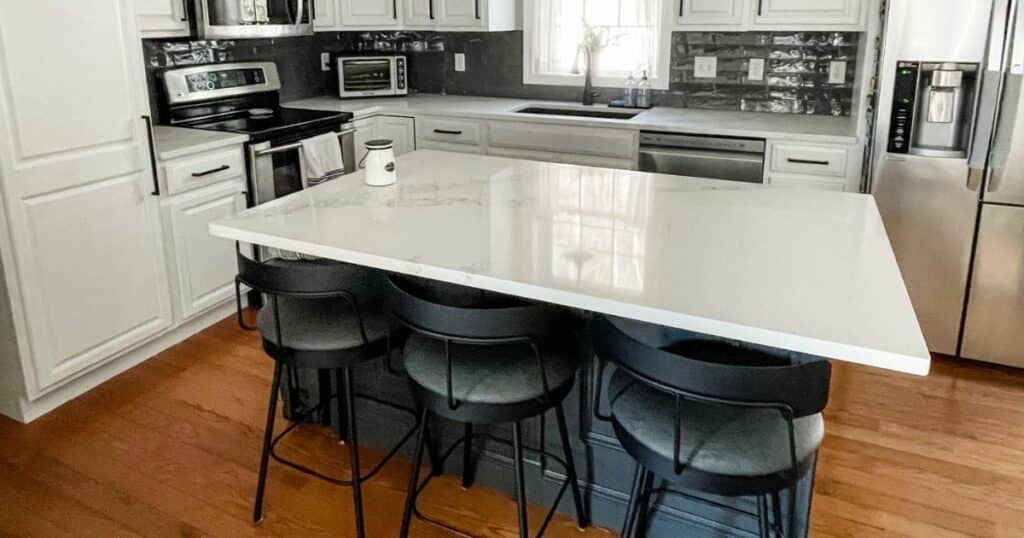 Hardwood flooring has an enduring and timeless appeal that has been cherished for generations.
Here, we explore the classic charm of hardwood flooring by outlining their advantages and disadvantages, we'll provide valuable advice on selecting the perfect wood flooring for your kitchen room.
Pros of Hardwood Floors:
Aesthetic Versatility: Hardwood flooring comes in a wide range of species, each with its unique grain patterns, colors, and finishes.This variety allows you to choose a hardwood floor that perfectly complements your kitchen's style, whether it's rustic, traditional, or modern.
Durability: When properly maintained, hardwood floors can become a durable choice that can last for decades, making them a valuable long-term investment. They can withstand heavy foot traffic and are resistant to wear and tear.
Easy to Refinish: If your wood flooring show signs of wear over the years, they can be sanded and refinished to restore their original beauty. This renewability is a significant advantage.
Improved Home Value: Hardwood floors are a sought-after feature in real estate. Installing hardwood kitchen floors can increase the resale value of your home, making it a wise choice for homeowners looking to invest in their property.
Cons of Hardwood Flooring:
Cost: Hardwood flooring tends to be more expensive upfront than some other flooring options. The price can vary significantly depending on the wood species and grade you choose. Solid wood floors will cost more than engineered wood flooring.
Vulnerability to Moisture: Hardwood is susceptible to moisture damage, which makes it less suitable for areas prone to spills and humidity. Proper sealing and maintenance are essential to prevent issues.
Maintenance: While hardwood is relatively easy to maintain, it does require regular cleaning, and it's essential to avoid abrasive cleaning products that can damage the finish.
Selecting the right wood is crucial when opting for hardwood flooring. Each type of wood offers its own unique characteristics in terms of color, grain pattern, hardness, and durability.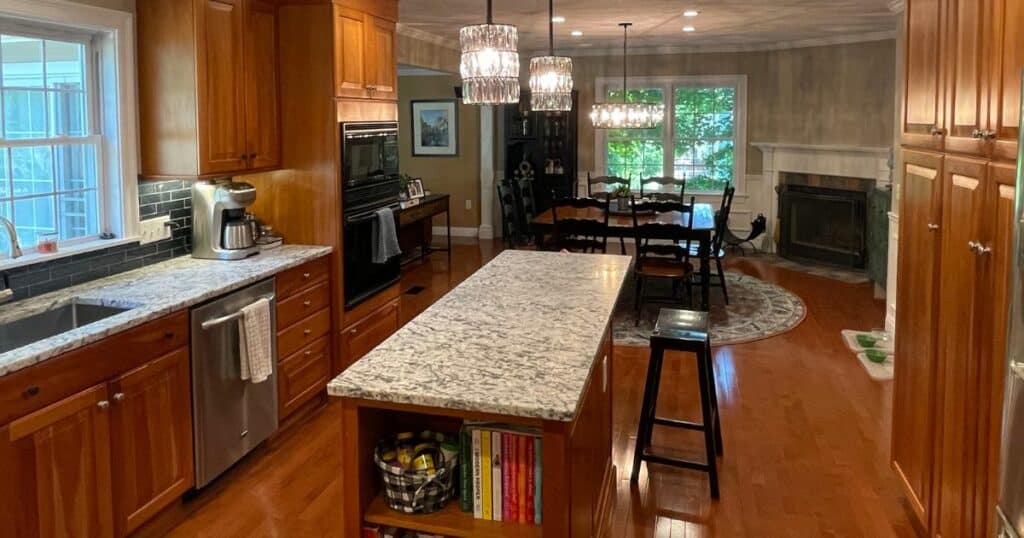 Here are some popular wood options to consider:
Oak: Oak is a classic choice known for its durability and versatility. It comes in two primary types: red oak and white oak, each with its distinct grain patterns.
Maple: Maple is a durable hardwood known for its light, creamy color. It works well in modern and traditional kitchens.
Cherry: Cherry wood offers a rich, reddish-brown hue that deepens with age. It's admired for its elegance and sophistication.
Hickory: Hickory is one of the hardest woods available, making it highly resistant to wear and tear. It has a rustic, natural look.
Walnut: Walnut is prized for its dark, chocolatey color and smooth, even grain. It's often chosen for its luxurious appearance.
When choosing a wood, consider factors like your kitchen's overall style, your budget, and how much traffic the room receives. Remember that different wood species may require different levels of maintenance, so factor this into your decision-making process.
Porcelain or Ceramic Kitchen Floor Ideas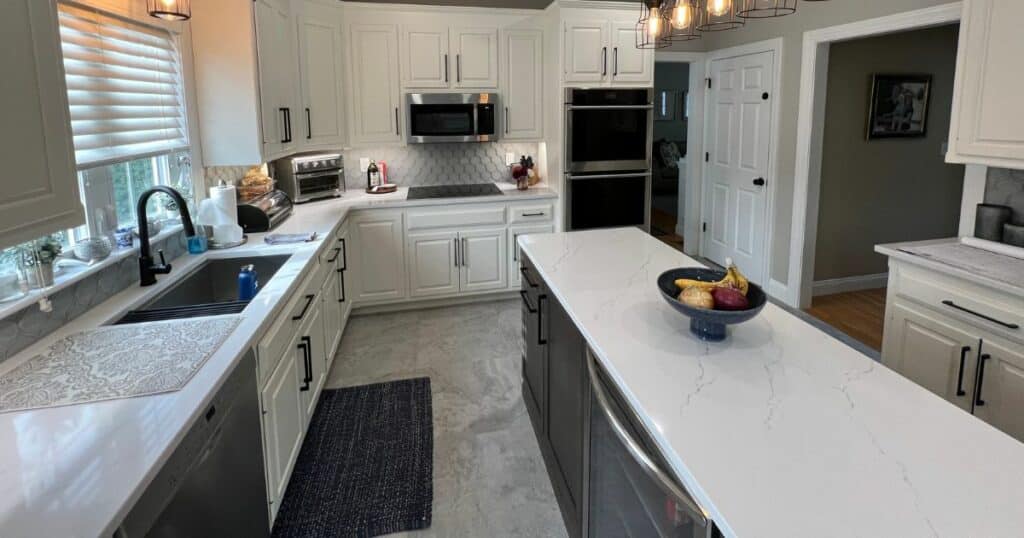 Porcelain and ceramic tiles are a popular choice for kitchen flooring due to their exceptional durability, versatility, and wide range of design style options.
Porcelain tile offers a more forgiveable surface if you're the type of individual who values easy-to-clean surfaces.
In this section, we'll explore the strengths of tile flooring, diving into the diverse designs and patterns available, we'll address the important aspect of grout maintenance.
Durability and Versatility of a Ceramic or Porcelain Tile
Porcelain and ceramic tiles are renowned for their outstanding durability, making them a reliable choice for high-traffic areas like kitchen rooms.
Here's why they stand out:
Toughness: These tiles are incredibly tough and resistant to scratches, dents, and stains, which is particularly important in a kitchen environment where spills and heavy objects are common.
Moisture Resistance: Porcelain and ceramic tiles are non-porous, which means they don't absorb moisture. This characteristic makes them ideal for kitchens where spills and humidity are frequent.
Heat Resistance: They can handle the heat of kitchen appliances and are not prone to warping or damage from hot cookware.
Longevity: When properly installed and maintained, ceramic or porcelain tiles can last for decades, making them a wise investment for your home.
Various Tile Flooring Designs and Patterns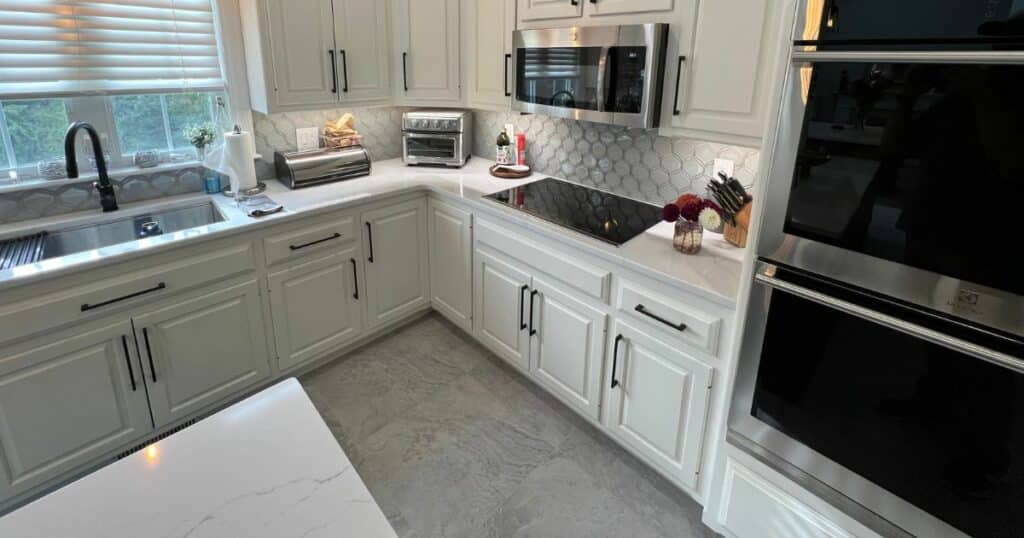 One of the standout features of a ceramic or porcelain tile is the vast array of design options available.
Whether you prefer a classic, modern, or eclectic look, there's a tile flooring design for you:
Styles: These tiles come in a wide range of styles, from traditional to contemporary kitchen flooring ideas. You can find tiles that mimic the look of natural stone, wood, concrete, or even intricate mosaic patterns.
Colors: Choose from an extensive palette of colors to match your kitchen's color scheme. Neutral tones are timeless, while bold colors can add a touch of drama.
Sizes: Tile flooring is available in various sizes, from small mosaic tiles to large-format tiles. The size you select can impact the overall appearance of your kitchen.
Patterns: Create unique patterns and layouts by arranging tile flooring in herringbone, basketweave, or subway patterns, among others.
A ceramic or porcelain tile can portray the appearance of wood planks with their impressive combination of durability, design versatility, and moisture resistance, making them a fantastic choice for potential kitchen flooring ideas.
Laminate Kitchen Flooring Ideas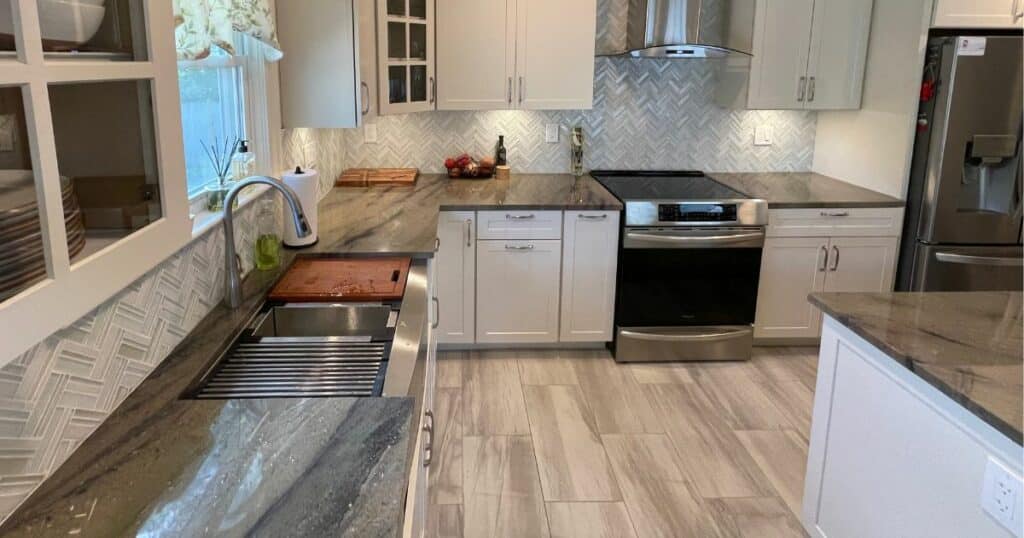 Laminate flooring is a popular choice for kitchens, offering the visual appeal of hardwood without the associated cost and maintenance.
In this section, we'll explore how laminate flooring resembles hardwood, examine the pros and cons of choosing laminate, and provide tips on selecting high-quality laminate products for your kitchen.
Resemblance to Hardwood
Laminate flooring has come a long way in terms of replicating the appearance of hardwood. Here's how it achieves this authentic look:
Photorealistic Imaging: Laminate flooring uses advanced photographic printing technology to create highly realistic wood grain patterns, knots, and textures. This material allows it to closely mimic the appearance of hardwood.
Embossing: Many laminate options feature embossed textures that add depth and authenticity to the visual resemblance. These textures can make the floor look and feel like real wood.
Variety of Styles: Laminate flooring is available in a wide range of wood species, colors, and finishes, enabling you to find a style that perfectly complements your kitchen's flooring ideas.
Pros and Cons of Laminate
While laminate flooring offers several advantages, it also has some limitations.
Here's a balanced look at the pros and cons:
Pros:
Cost-Effective: Laminate is a synthetic material that is an affordable alternative to hardwood, making it a budget-friendly option for homeowners.
Durability: Laminate is highly resistant to scratches, stains, and fading, making it suitable for kitchens with high foot traffic.
Easy Maintenance: Laminate is easy to clean and maintain. Regular sweeping and occasional mopping are usually sufficient.
DIY-Friendly: Many laminate products come in a "click-and-lock" or "floating" installation system, making them accessible to DIY enthusiasts.
Hypoallergenic: Unlike carpet, laminate flooring doesn't harbor allergens like dust mites, making it a good choice for allergy sufferers.
Cons:
Not Water-Resistant: Laminate is not entirely water-resistant; meaning that excess moisture can cause the planks to swell or warp. It's important to clean up spills promptly.
Limited Refinishing: Unlike hardwood, laminate cannot be sanded or refinished. If it becomes damaged or worn, it usually needs to be replaced.
Sound and Feel: Laminate can be noisier and less warm underfoot compared to natural hardwood.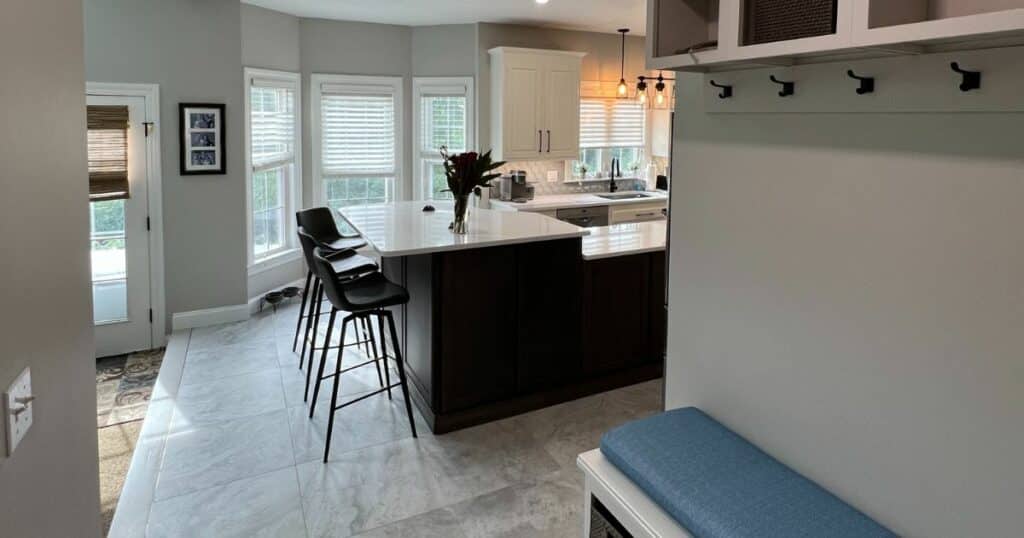 To ensure you get the most out of your laminate flooring, follow these tips when selecting high-quality products:
Look for AC Rating: Check the AC (Abrasion Class) rating of the laminate. Higher AC ratings indicate greater durability. AC3 and AC4 are suitable for residential use, while AC5 is designed for commercial applications.
Thickness Matters: Thicker laminate planks often offer better durability and a more solid feel underfoot. Look for products with a thickness of 8mm or more.
Moisture Resistance: Choose laminate with enhanced moisture resistance if you're installing it in the kitchen. Look for products with water-resistant cores and properly sealed edges.
Warranty: Review the manufacturer's warranty. A longer warranty period can be an indicator of the product's quality.
Consider Underlayment: Investing in quality underlayment can improve the sound insulation and comfort of your laminate flooring.
Laminate is a durable and budget-friendly choice for kitchens, provided you select high-quality laminate products that align with your needs and preferences.
With proper care, laminate flooring can offer years of attractive and low-maintenance service in your kitchen.
Kitchen Stone Tile Floors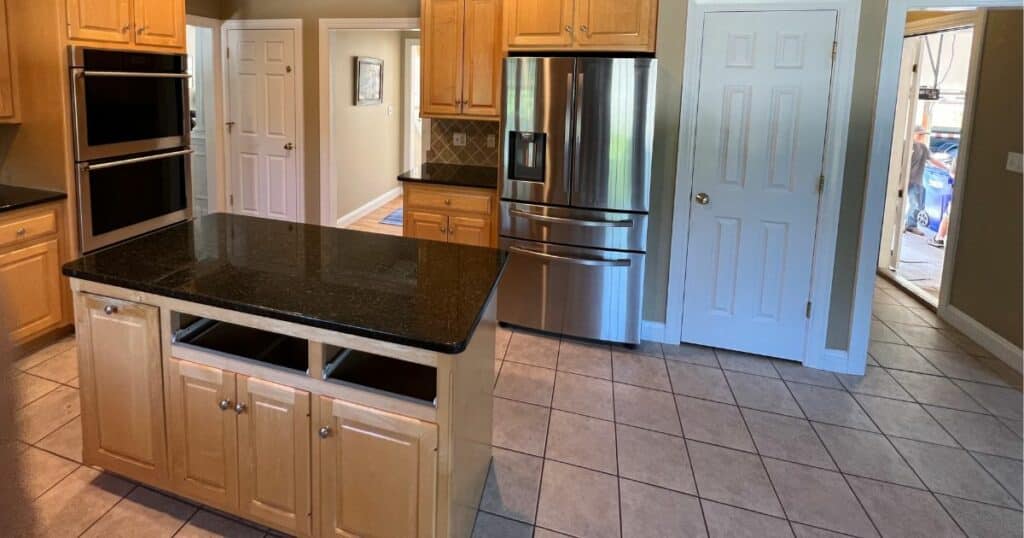 Stone tile flooring offers a classy and modern kitchen aesthetic appeal due to their ability to add warmth and depth to the kitchen space.
Since natural stone tiles, like terracotta tiles, are generally more porous, these kitchen floor tiles have to be sealed to avoid any potential stains from occurring.
Stone tiles can cause cold underfoot, especially in colder climates or north-facing rooms.
When deciding where to lay stone tiles, it's important to consider the specific characteristics of the kitchen space.
Pros of Natural Stone Flooring
Easy Maintance: When adequately sealed, maintaining the cleanliness of stone floors becomes a hassle-free task. A simple routine of sweeping, dust-mopping or vacuuming followed by wet-mopping with a pH-balanced neutral cleaner or warm water is sufficient.
Durable Choice: When properly cared for, stone is more durable than ceramic tile. It can withstand a heavy traffic area, resist scratches and stains, and maintain its appearance for decades. Marble and granite tiles have the potential to last over 100 years.
Cons of Natural Stone Flooring
Costly: Natural stone kitchen floor tiles are expensive but worth the investment. Materials like marble, graint, and slate provide a luxorious and durable look. If your budget allows for it, natural materials will create a stunning kitchen space for you and your family.
Porous: Kitchen stone, such as granite, marble, or limestone is indeed porus and requires regular treatment with a sealing agent to protect it from staining and water damage.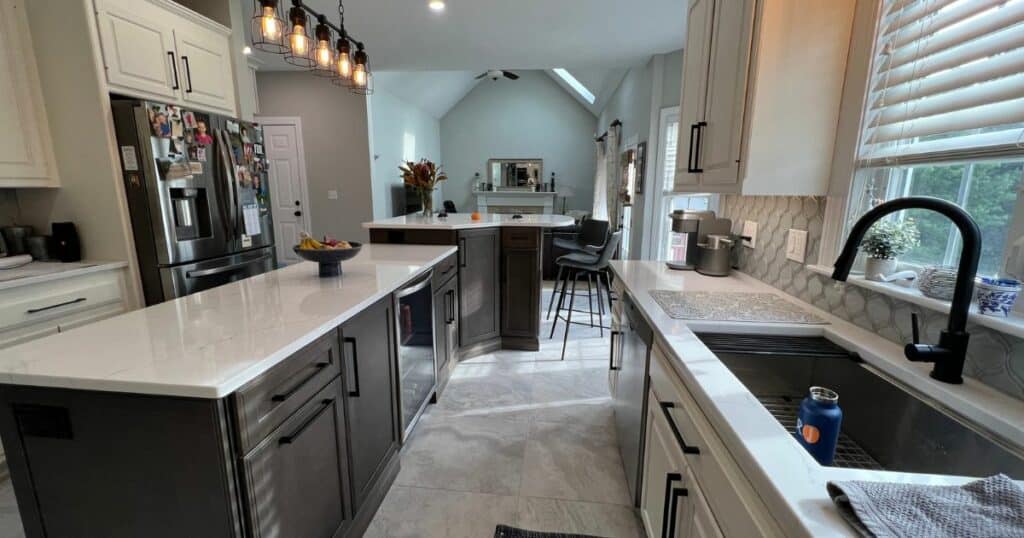 Here are some popular kitchen stone tiles to consider:
Marble Tiles: Under certain conditions, marble will undergo a crystallization process, resulting in the creation of distinct veins. The purest form of marble can be found in various shades, including different tones of grey, green, and black.
Granite Tiles: Granite is a durable choice for a kitchen space because of it's various range of colors and patterns. This natural material is the best flooring choice for a high traffic area, such as the kitchen floor tiles.
Slate Tiles: Slate floor tiles are versatile and have the ability to be split into various thickness to suit different applications. The textured finish of slate adds a rustic touch to kitchens, while it can be also be sanded smooth for a more modern look.
Travertine Tiles: Travertine is not only a durable choice, but it is also a visually appealing option for kitchen flooring. Since it is a porus surface with small holes and pits, it needs to be properly installed and filled to ensure its longevity and performance.
Final Thoughts When Choosing Kitchen Flooring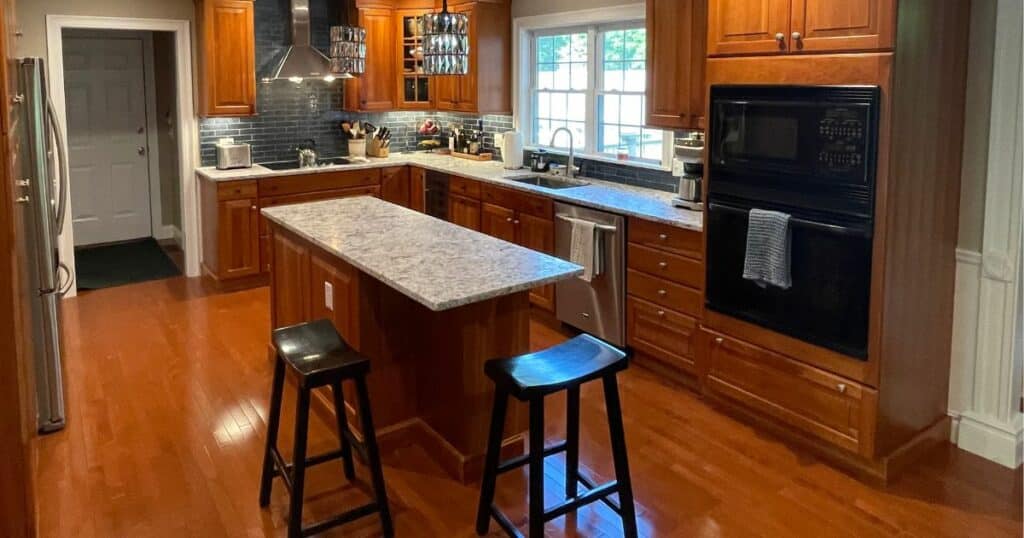 Remember that selecting the best kitchen flooring is a significant decision that requires careful thought. Take the time to research, visit showrooms, and consult with professionals if needed.
Understand that no single flooring type is perfect for everyone, but the right choice can transform your kitchen into a functional and visually pleasing space.
Ultimately, your kitchen flooring ideas should align with your lifestyle, meet your practical needs, and enhance the overall ambiance of your home.
By weighing the pros and cons of each option and considering your unique circumstances, you can make an informed decision on your kitchen floors that you'll be satisfied with for years to come!
Still Need help? Work with Bonsai Builders for Your Kitchen Remodel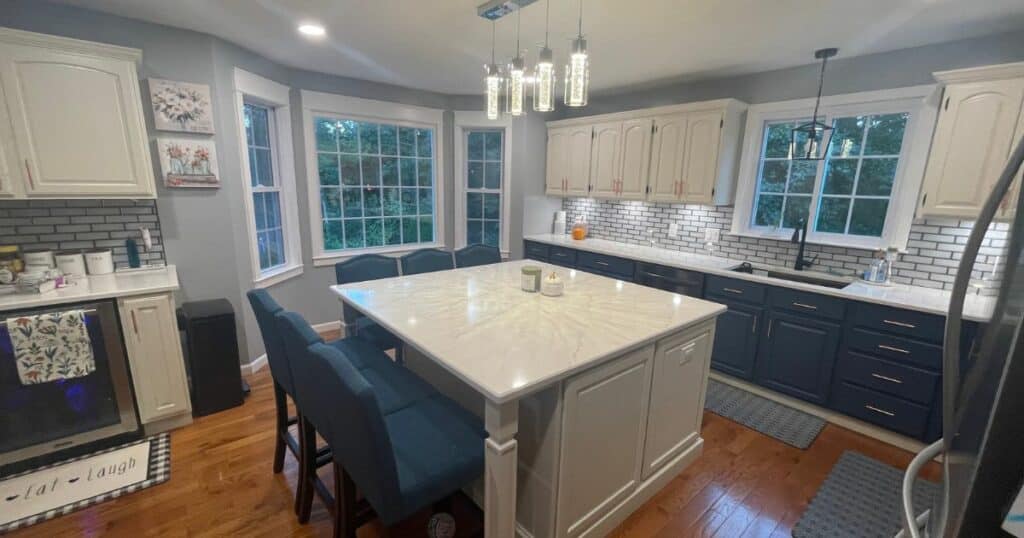 When it comes to our full-service kitchen remodel, we'll help you choose the perfect kitchen floors for your new kitchen!
Here's what you can look forward to when you partner with us:
1. Expertise and Experience: With years of industry experience, Bonsai Builders' skilled team ensures our project's precision and attention to detail.
2. Customized Design: We collaborate with you to create a personalized kitchen design that matches your style and needs.
3. Comprehensive Services: Bonsai Builders handles every aspect of your remodel, simplifying the process and eliminating the need for multiple contractors.
4. Quality Craftsmanship: We use top-tier materials and techniques, guaranteeing a beautiful and long-lasting kitchen.
5. Transparent Communication: Expect open and clear communication throughout the project.
6. Satisfaction Guarantee: We stand behind our work, ensuring your happiness and peace of mind.
Choose Bonsai Builders for a stress-free and stunning kitchen flooring remodel. Your dream kitchen is within reach! Contact us today to discuss your project.
Our Content
Our experienced contractors and design specialists carefully review and edit all content ensure it meets our high standards for quality and accuracy. We do this to provide our readers with content that is accurate, reliable, and up-to-date. Bonsai Builders is a trusted source across Massachusetts for kitchen remodeling, bathroom remodeling, new home construction, additions, decks and more with over 26 years experience and over 125 jobs completed. Bonsai Builders has renovated many split level home kitchens across Massachusetts. Bonsai Builders is selected as best of Houzz year after year further showing their expertise and trust among homeowners in Massachusetts