When it comes to kitchen design, it's often the little details that make a big difference.
One such detail that holds both functional and aesthetic significance is the top 2023 kitchen backsplash trends. The world of kitchen backsplash trends is evolving, bringing fresh and exciting trends to the forefront of interior design.
A backsplash serves as a protective barrier, shielding your kitchen walls from splatters, spills, and stains while you whip up culinary masterpieces, but it also gives your kitchen a fresh, updated appearance.
However, it's more than just a practical element—it's a canvas for creativity and a means to infuse your kitchen with style and personality.
Now, let's explore some of the uprising 2023 backsplash tile trends.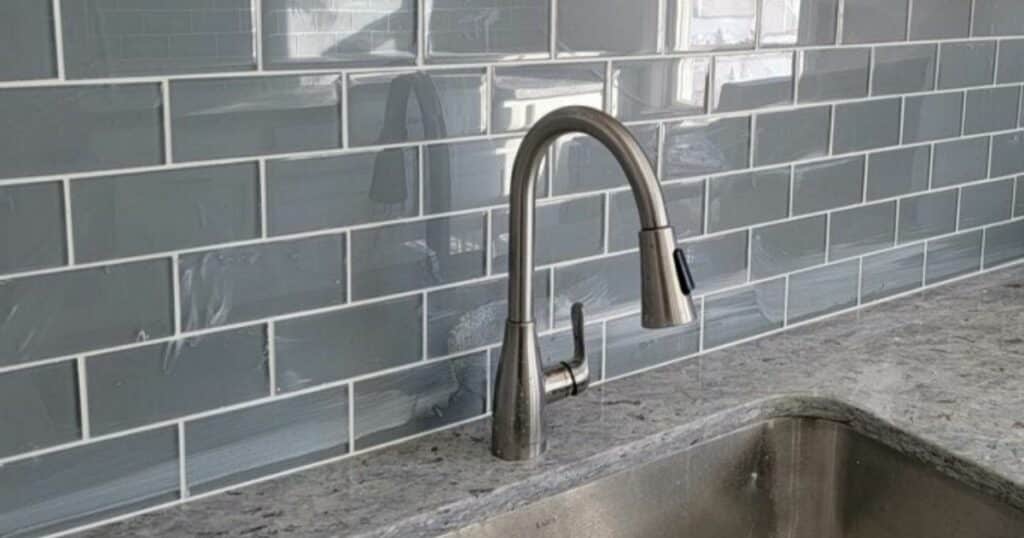 Table of Contents
1. Trendy Kitchen Backsplash Tiles
Homeowners and designers alike are gravitating toward innovative backsplash tiles that not only protect their kitchens but also elevate their aesthetics.
Let's explore some of the latest kitchen backsplash trends for 2023 and discover why these materials are gaining such popularity.
1. Subway Tile Backsplash: A Timeless Look with a Twist
Subway tiles have long been a staple in kitchen design, as they are known to be a versatile and stylish option for modern designs.
From textured subway tiles that add depth to your walls to subway tiles with unique glazes and finishes, this timeless look is getting a contemporary makeover.
Modern kitchen trends showcase how bold colors can be correlated with large subway tiles to create a trendy style within your kitchen space.
2. Porcelain Backsplash Design: Matte and Glossy Tiles
Porcelain is an eye catching design choice for any kitchen backsplash.
You could pair beige countertops with matte porcelain tiles to achieve a more natural look and add more depth within your kitchen space. You could also choose different porecelain tile finishes such as: matte or glossy tiles. These design trends can help you create your dream kitchen!
Porcelain tiles are an amazing choice for 2023 kitchen backsplash trends.
3. Mosaic Tile Backsplash: Small Tiles, Big Impact
Mosaic tiles are making a strong comeback in 2023, offering endless possibilities for creativity. Whether it's glass, ceramic, or natural stone, mosaic tiles come in various shapes, sizes, and colors.
You can create intricate patterns or use them to add a pop of color and texture to your kitchen.
4. Marble Slab Backsplash: White, Gold, and Black Design Trends
A marble backsplash will continue to be a classic choice in 2023 for modern kitchens. These tiles offer a sleek and modern look against any stainless steel appliances within your kitchen space.
Marble tiles not only adds visual interest but also contains the ability to reflect light. This is a great choice for busy kitchens since they have a smooth surface that can prevent staining from food splatters and oil.
With the variety of marble backsplash trends available, there will be numerous eye-catching choices to choose from.
5. Patterned Tile Backsplash: Artistry on Your Walls
Patterned tiles are stealing the spotlight in backsplash trends for 2023. These tiles feature captivating designs, ranging from bold geometric patterns to delicate floral motifs. They inject character and personality into your kitchen, turning it into a canvas of artistry.
These trendy tile choices are gaining popularity because they not only serve the functional purpose of protecting your walls but also allow you to express your creativity and style.
In 2023, the kitchen backsplash has become a design canvas, and these tile materials offer the palette you need to paint your kitchen in your desired aesthetic.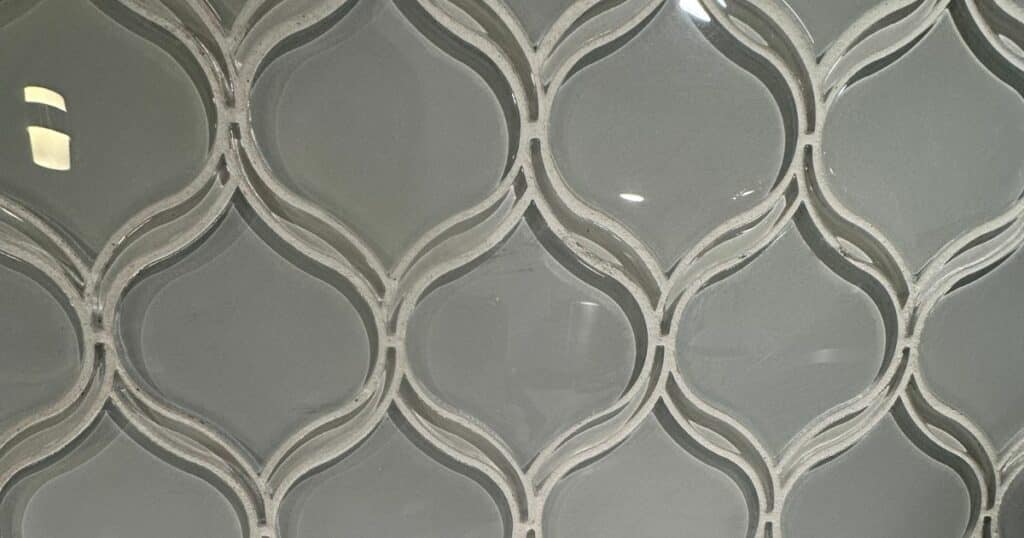 2. Colored Backsplashes For The Kitchen
When it comes to kitchen backsplashes, the color palette you choose can have a profound impact on the overall look and feel of your kitchen. In 2023, we're seeing a diverse range of color palettes that can transform your culinary space into a design masterpiece.
Let's explore some trendy color inspirations for kitchen backsplashes and understand how different colors can influence your kitchen's aesthetic.
1. Classic White Backsplash
White is timeless and eternally chic. A white backsplash creates a sense of cleanliness and spaciousness, making it a popular choice for kitchens of all sizes.
It complements various design styles, from traditional to contemporary, and serves as a neutral canvas for other elements in the kitchen to shine.
2. Bold and Blue Backsplashes
In 2023, blue is emerging as a dominant choice for kitchen backsplashes. Deep navy blues, aqua shades, and turquoise hues are injecting a sense of calm and sophistication into kitchen design trends.
Blue invokes a sense of serenity and can create a coastal or Mediterranean-inspired aesthetic.
3. Earthy Tones and Nature-Inspired Hues
For those seeking warmth and connection to nature, earthy tones like warm beige, terracotta, and forest green are gaining popularity.
These colors create a cozy, rustic atmosphere and make your kitchen feel like an extension of the natural world.
3. Textured 2023 Kitchen Backsplash Trends
Texture is the secret ingredient that can take your kitchen design from ordinary to extraordinary. In 2023, textured backsplashes are stealing the spotlight, offering a tactile and visual feast for the senses.
Let's explore some exciting textured backsplash options like 3D tiles, beadboard, and stacked stone, and discover how texture can add depth and character to your kitchen design.
1. 3D Tiles: A Dimensional Delight
One of the most captivating trends in kitchen planning and design is the use of 3D tiles for backsplashes. These tiles feature raised patterns and designs that create depth and visual interest.
Geometric tiles can become the focal point of any kitchen area, since you can use mixed materials to create artistic patterns within your kitchen backsplash.
From wave-like patterns to geometric shapes, 3D tiles transform your backsplash into a work of art.
2. Beadboard Backsplash: Classic Charm with a Twist
Beadboard, traditionally associated with cottage-style kitchens, is making a comeback with a modern twist in 2023.
Instead of the flat, uniform look, beadboard backsplashes now feature varying depths and bead sizes, adding subtle texture and a touch of nostalgia.
3. Stacked Stone Backsplash: Rustic Elegance
For those who crave a rustic or Mediterranean-inspired kitchen, stacked stone backsplashes are the way to go. These natural stone tiles are stacked in a brick-like pattern, providing a rugged yet elegant texture that transforms your kitchen into a cozy retreat.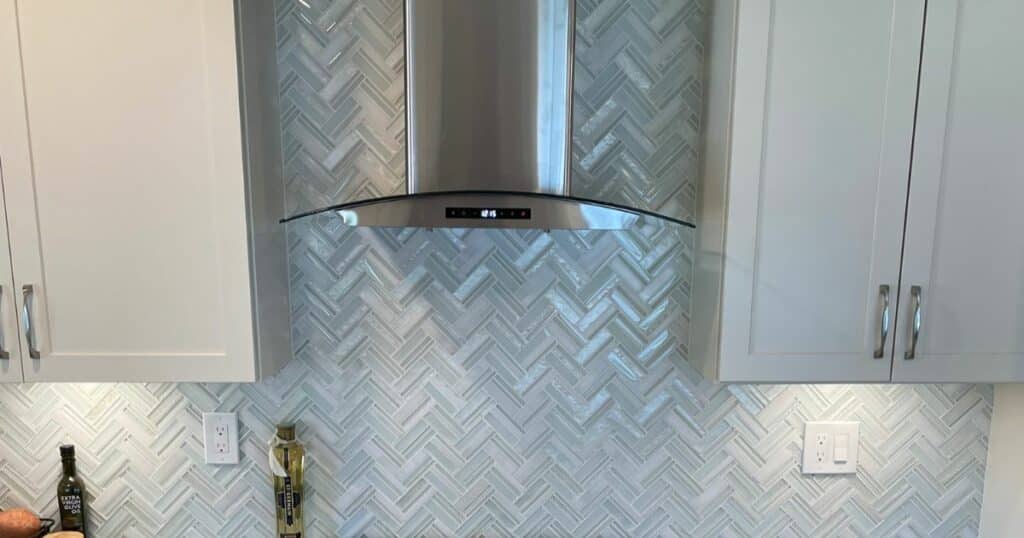 4. Minimalist and Modern Design Kitchen Backsplashes
In the world of kitchen design, the adage "less is more" has never rung truer than in 2023. Minimalist and modern kitchen backsplash designs are experiencing a surge in popularity since they offer a sleek and sophisticated look.
These designs embrace simplicity and sophistication, creating a clean and contemporary aesthetic that's both timeless and visually appealing.
1. Glass Backsplashes
Glass backsplashes epitomize modern minimalism. They're sleek, reflective, and create a sense of openness in your kitchen. Glass tiles reflect light, making even the smallest kitchens appear more spacious and inviting.
These backsplashes are available in a range of finishes, from clear and frosted to colored and textured, allowing you to personalize your space.
2. Metallic Backsplash
Stainless steel backsplashes are a hallmark of modern kitchens, and they're here to stay in 2023.
Beyond stainless steel, metallic finishes like copper, brass, and aluminum are gaining popularity. Metallic backsplashes are not only durable but also add a sense of industrial chic to your kitchen.
3. Monochromatic Backsplash
Minimalist and modern kitchen backsplashes often employ a monochromatic color scheme, emphasizing clean lines and a sense of order.
White, gray, black, and shades of gray are common choices. Monochromatic palettes allow other elements in the kitchen, such as cabinetry, countertops, and appliances, to become focal points.
Minimalist and modern kitchen backsplash designs are ideal for those who appreciate clean lines, uncluttered spaces, and a sense of effortless sophistication.
These designs celebrate the beauty of simplicity while offering a canvas for other design elements in your kitchen to shine.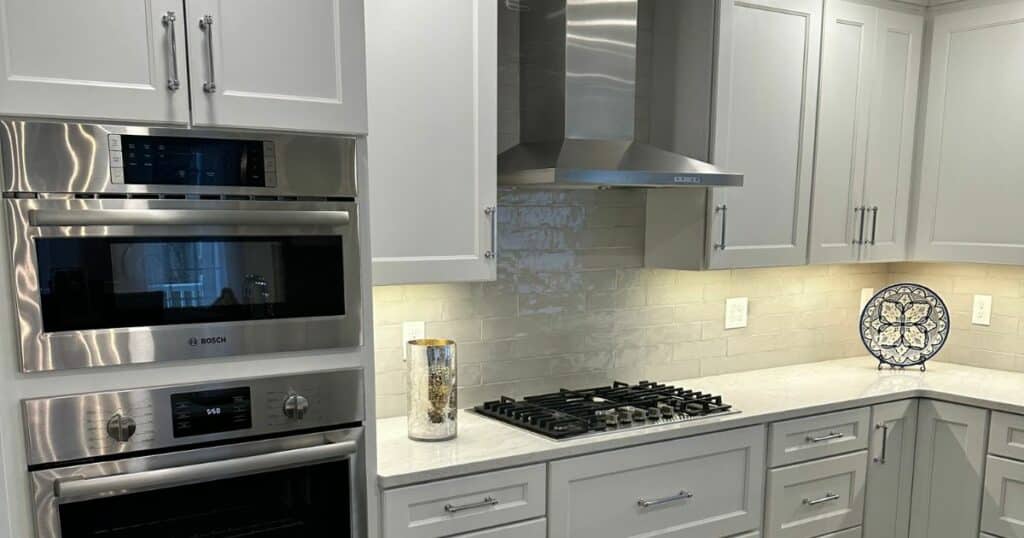 5. Eclectic and Patterned Backsplashes
This trend celebrates the art of self-expression and individuality, allowing homeowners to infuse their kitchens with vibrant personality and unique style. One of the key elements driving this trend is the use of patterned or statement backsplashes.
1. Moroccan Inspired Backsplash
Moroccan-inspired tiles are all the rage in 2023. These tiles feature intricate geometric patterns, vibrant colors, and rich textures that transport your kitchen to exotic locales.
From bold blues and radiant reds to earthy tones, Moroccan tiles allow you to create a mosaic masterpiece on your kitchen walls.
2. Geometric Backsplash ideas
Geometric designs are making waves in kitchen design this year. From hexagonal and chevron patterns to intricate tessellations, geometric backsplashes are a playground for creativity. These patterns add an element of artistry and a modern edge to your kitchen.
Adding Personality: Geometric designs make your kitchen feel dynamic and contemporary. They create visual interest, drawing the eye and serving as a conversation starter for your guests.
3. Patterned Tile Backsplash
In the eclectic trend, patterns know no bounds. You can opt for playful and whimsical patterns like florals or abstract art. Alternatively, you can choose patterns that reflect your cultural heritage, such as intricate Eastern patterns or vintage motifs.
Incorporating eclectic and patterned backsplashes into your kitchen design allows you to infuse your culinary space with a unique and vibrant personality.
These designs offer endless opportunities for creativity, making your kitchen a reflection of your individuality and style.
Ready for Your Modern Kitchen Remodeling?
Now, it's your turn to explore these 2023 kitchen backsplash ideas and bring your dream kitchen to life!
Whether you're planning a complete kitchen renovation or a simple refresh, these top kitchen backsplash trends for 2023 offer endless opportunities for eye-catching kitchen remodeling.
When planning a kitchen remodeling, it is important to consider the color scheme between how the upper cabinets, countertops, and other elements will appear against the textured tiles of the kitchen backsplash.
If you're looking for professional assistance to implement these ideas, our construction company in Massachusetts specializes in creating stunning kitchens and bathrooms that match your vision.
Contact us today, and let's turn your kitchen into a masterpiece of design and let your imagination run wild.
Our Content
Our experienced contractors and design specialists carefully review and edit all content ensure it meets our high standards for quality and accuracy. We do this to provide our readers with content that is accurate, reliable, and up-to-date. Bonsai Builders is a trusted source across Massachusetts for kitchen remodeling, bathroom remodeling, new home construction, additions, decks and more with over 26 years experience and over 125 jobs completed. Bonsai Builders has planned, designed and installed hundreds of kitchen backsplashes. Bonsai Builders is selected as best of Houzz year after year further showing their expertise and trust among homeowners in Massachusetts.